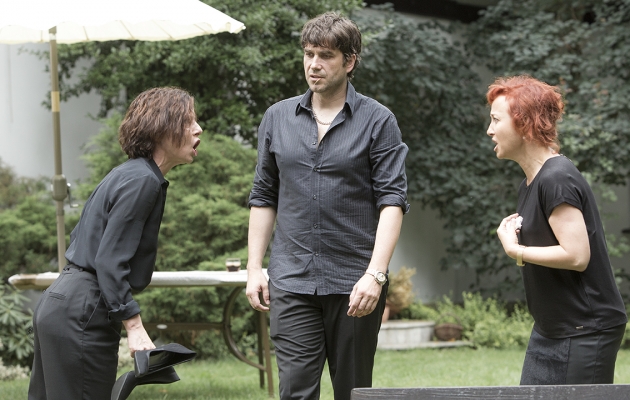 - He plays my brother in law. It's not a big role of Marcin - says about the role of Marcin Dorociński, Agata Kulesza during last year Tofifest film festival.
She was speaking about the film of Kinga Dębska "My sister" (formerly known as "My daughters the cows"). Movie with Kulesza and Dorociński, will appear in cinemas at October 16. Kulesza is well known from the Oscar Aawarded movie "Ida" by Paweł Pawlikowski.

-We laughed with Gabrysia Muskałą, when we played the scene of the aggressive quarrel between us it isn't possible to mount stars in the background. Because Marcin at that time, when we quarrelled, in the background he tried to open a garden umbrella and took the stage away from us. He needed to think out completely different job, because everyone looked only at, how Marcin was opening the umbrella. We are with Marcin in one theatre, we are playing in one show and we are laughing, that after 'Rose' still are joining us to themselves - says the actress.
The new movie Kinga Dębska, operating so far under the working title "My daughters, the cows" slated for release with the revised, official title - "My sister". New movie of director of "Hel", highlighted at the Koszalin Film Festival "Youth and the Film" by award for best screenplay, starts with a galaxy of important Polish celebrities (among others in the cast Agata Kulesza, Marian Dziędziel and Marcin Dorociński), scheduled for release on October 16th.
"My sister" is the story of sisters who posed in a critical situation - despite the mutual antipathy - are forced to interact. Starring see Agata Kulesza ("Suicide Room", "Rose", "Ida"), Gabriela Muskała ("Courage", "Be like Kazimierz Deyna", "I want to live") and Marian Dziędziel ("Under Strong Angel" "Lady of kindergarten"). Marcin Dorociński partnered with them ("Manhunt", "Jack Strong") and Łukasz Simlat ("Courage," "Lady of kindergarten").
- My dream is to construct such a film to the viewer to change laughed and cried, but that came out of the theater built, not worry - says King Dębska, the director.