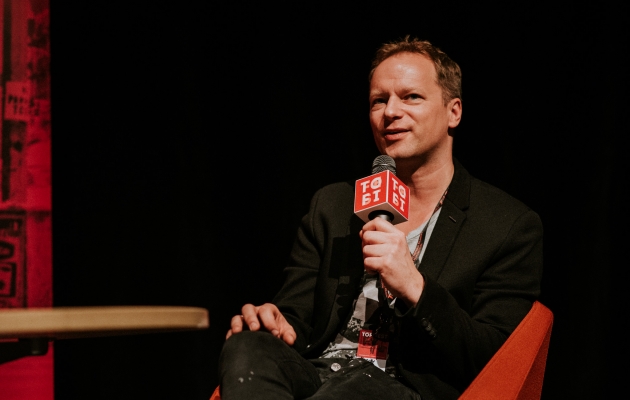 Sunday, 29th October, marks the last day of Tofifest. Saturday was all about awards, while the main events of this passing Sunday include a visit of Krzysztof Zanussi, a première of the Torun Film Route, and awarding the audience award. We recommend checking the latest issue of the newsletter, which contains many film reviews and reports on meetings.
Yesterday, there was the Golden Angel Grand Prix Award for "Custody" by Xavier Legrand from France, the Golden Angel for Artistic Insolence for Maciej Stuhr, a Flisak of Tofifest for Malgorzata Kozuchowska, and the grand finale in the form of the "Music is a woman" concert, featuring Ania Karwan, Paulina Przybysz, Krzysztof Zalewski, and the Astrolabium Chamber Choir. The Closing Ceremony of the 15th edition of the Tofifest IFF was a truly impressive event. Angelika Jasiulewicz prepared a report on the gala for you (in Polish).
Today, we have also launched the Torun Film Route: www.filmowytorun.pl. More information on that event will come soon.
Meetings a.k.a. guests of Tofi
Maciej Stuhr, or the Golden Angel. A film about nothing at all? This is how Maciej Stuhr described his directing début screened during the festival. Naturally, it was only a joke, because the actor was quite serious about his film project. It is fun making films for people, same as sitting here and watching your reactions, he confessed at the meeting. Some of the things he said were quite surprising, for example – I do not like theatre schools, both as places and phenomena, he said recalling his many slip-ups and embarrassing moments during his career as a master of ceremony. Zuzanna Kuffel wrote a report on the meeting (in Polish).
Gierszal, Prochniak, Szpetmanski, a.k.a. "The Fastest". It is a story of a three-time triathlon champion and a man, who climbed to the top from the very bottom of a gutter. This is the plot in "The Fastest" by Lukasz Palkowski, who won the Golden Angel Award in the FROM POLAND Competition, yesterday. The producer, Krzysztof Szpetmanski, and the actors portraying two main protagonists – Jakub Gierszal, and Anna Prochniak had a meeting with the audience, following the screening of the film. Dagmara Borkowska and Anna Liczmanska were there, too, to tell you about it (in Polish).
Andrzej Jakimowski, a.k.a. "Once Upon a Time in November". I try to make films that are in close relation to real life…, said Andrzej Jakimowski, film director, during the meeting with the audience. The film features performances of authentic residents of a punk and anarchist squat community called "Przychodnia", whose identities the director kept secret: I cannot tell you who they are, because the ones playing in my film could rick being attacked for that, he added. Anna Skoczek wrote a report on the meeting (in Polish).
Reviews of festival films
"The Man with the Magic Box" directed by Bodo Kox. This film makes you think. The future depicted in the latest film by Bodo Kox happens merely 13 years from now. It is a vision of a constant surveillance of citizens, urban landscape drowning in litter, and emotional coldness, which is quite worrying, as we know it can become reality. Is love possible in such a world? This is a question you will find in a review written by Lena Paracka (in Polish).
"Double Trouble" by Marta Karwowska. It was plus thirty degrees Celsius outside, and we could not start any fan, because it would be a nuisance to the sound engineer, recalled actor Piotr Glowacki, who was born in Torun, during the meeting with the audience. Do you think that making films for children is nothing but fun? Our guests told us about shooting a scene, in which kids are falling down together with a subsiding floor in a tenement building, or a scene with a falling bridge. How did they film that? Read the review written by Zuzanna Kuffel (in Polish).
"God's Own Country" by Francis Lee. This film, which was featured in the "Forum 2016 / 2017" section of Tofifest 2017, is woven out of associations. It is a seemingly simple story, but when we go beyond the literal, the film has a lot more to offer. Agata Burdajewicz wrote a review for you (in Polish).