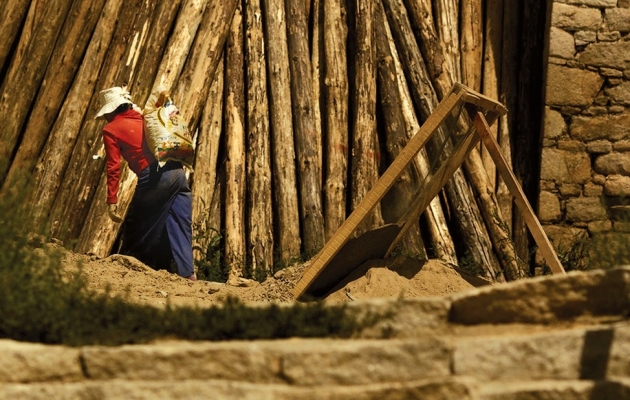 "Women of the World" — exhibition of Jacek Szymczak's photography — is composed of a number of stories about women, who live very far from each other.
Each separate story refers to particular places, where the women selected by the author come from. This is a collection of portraits, which Jacek Szymczak was making for 10 years, when travelling around the world. Each of the portraits could become a scenario for a documentary or a concept for a feature film — and the author would gladly elaborate on that. We will have an opportunity to meet women from Cuba, Tanzania, Venezuela, Morocco, China, Tibet, Egypt, Israel, Russia, Germany, the USA, Cambodia, Chile, Australia, and Malaysia.
When: 21–27 October
Where: Galeria Dworzec Zachodni (Od Nowa), ul. Gagarina 37a, Toruń
Admission free
Jacek Szymczak is a director, cinematographer, and producer. He has a versatile set of skills, all of which have one common denominator: new ways of communicating with the audience, formal means of expression, and fascination with both image and sound. He is constantly going deeper into this domain of knowledge and he is very happy to share what he has learned. In his everyday life, he works on television formats. He has described his practical knowledge in a scientific paper, which gave him a title of PhD in film and television art, at the Film School in Lodz, where he also gives lectures, among others, in the Cinematography Department and Film Production Department. He has an extensive experience in production, as he has worked on a number of productions for the TVN Network (in the years 2001-2013). While studying, he was also simultaneously working on this film technique, in feature films. He directs and produces independent films, such as Piwnice Diabła (Devil's Cellar), Kobieta Twoja (Your Woman), Uciekając przed (Running from), Droga do… (The Road to…), Wielki Błękit Morza Czerwonego (The Great Blue of the Red Sea), Pod ciśnieniem (Under Pressure), Zdobywcy Nieba (Conquerors of the Sky), which won numerous awards at festivals, and were broadcast in television. He has written many scripts and directed a few hundred video-clips to music, as well as commercials. He is also the creator of New Media Impact, i.e. one of the first Polish training and consulting companies dedicated to the film and television industry. His 20-year experience in working in mass media has translated into creating a team of experts, composed of operators, directors, producers of documentaries, technologists, journalists, and experts in media images. The workshops are divided into two groups: START UP — for beginners, and PRO MEDIA — for professionals. Currently, the company is introducing an author's support programmes for young talents in television.
You can find more information on the following website: www.newmediaimpact.pl.