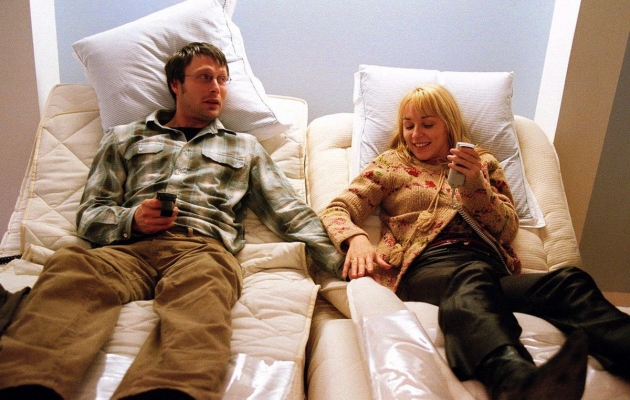 22 October, 14:00 · Od Nowa – large hall
Cecilie (Sonja Richter) and Joachim (Nikolaj Lie Kaas) have just got engaged. Unfortunately, their life together is bound to change soon, when the boy has a car accident. The woman that caused the accident is tormented by guilt and asks her husband, a doctor (Mads Mikkelsen), to help Cecilie, who has been rejected by Joachim ― now paralysed and plunged into despair. Soon, the doctor and the would-be bride fall in love with each other...
The film by Susanne Bier has been made, according to the Danish Dogme film style.
| | |
| --- | --- |
| Director: | Susanne Bier |
| Screenplay: | Anders Thomas Jensen |
| Music: | Jesper Winge Leisner |
| Cinematography: | Morten Søborg |
| Editing: | Pernille Bech Christensen, Thomas Krag |
| Cast: | Mads Mikkelsen, Sonja Richter, Nikolaj Lie Kaas, Paprika Steen, Ulf Pilgaard, Birthe Neumann |
| Awards: | MFF w Toronto / Toronto IFF – Nagroda FIPRESCI / FIPRESCI Award (2002); Duńska Akademia Filmowa / Danish Film Academy – Nagroda Publiczności, Robert: Najlepszy Film, Najlepszy Montaż, Najlepsza Aktorka Drugoplanowa, Najlepszy Aktor Drugoplanowy / Audience Award, Robert Award: Best Film, Best Editing, Best Supporting Actress, Best Supporting Actor (2003) |