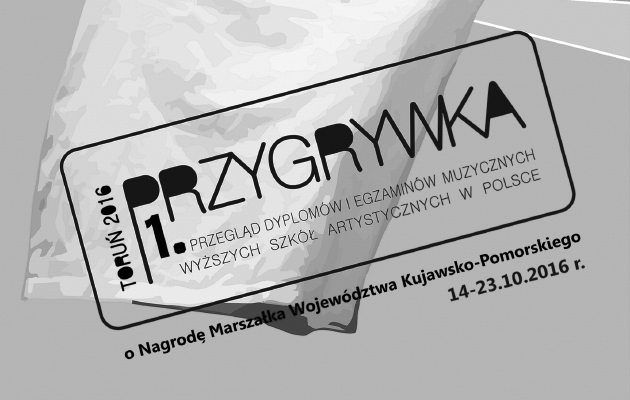 I Ogólnopolski Przegląd Dyplomów i Egzaminów Muzycznych Wyższych Szkół Artystycznych PRZYGRYWKA o Nagrodę Marszałka Województwa Kujawsko-Pomorskiego (The First All-Poland Review of Music Diplomas and Exams of High Schools of Art PRZYGRYWKA, competing for the Award of the Marshal of Kujawsko-Pomorskie) will take place from 14th to 23rd October, 2016.
The review is addressed to students of art schools, both public and private. The goal behind the competition is to promote young actors, help them develop their talents, and integrate the artistic community of debuting artists. Winners will have an opportunity to present selected music plays, term exams, and music diplomas, in front of audiences in Toruń, from 21st to 23rd October. Admission to all presentations is free. The review will be opened by a concert of Artur Tuźnik Trio jazz band (it will take place on 14th October, at 7:00 p.m.). One week later, there will be a concert of a band led by Jacek Bończyk, one of the jurors — the concert will take place on the stage at ul. Żeglarska 8. The event will also be accompanied by recording of excerpts from Pan Tadeusz: The Last Foray in Lithuania, read in the original language from the region of Kresy, by actors from the Polish Theatre in Vilnius. All of the mentioned events will be part of an international project of interdisciplinary nature.
The programme of PRZYGRYWKA and detailed information are available on the Theatre website (www.teatrmuzyczny.torun.pl).