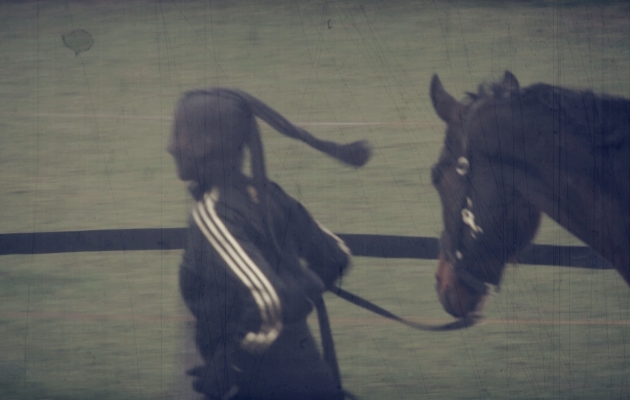 14th October to 20th November, 2016
Exhibition opening: Friday, 14th October, at 6 p.m.
The exhibition of Anna Baumgart titled "The Comanche Territory" and held at the Wozownia Art Gallery presents a selection of the most important recent films by the artist.
The presentation offers an insight into some of her artistic activities, by placing them in the context of her creative strategy. The strategy in question consists in addressing difficult issues of history and memory. The common trait of Baumgart's works is the play with the conventions of documentary films. They are made of pieces of already existing materials (found, for instance, in film documentaries or feature films), as well as newly prepared images, which only resemble the reportage genre. In her works, Baumgart ventures out to historical and cultural spaces which are particularly risky to explore. The exhibition owes its name to the book of the same title by Arturo Pérez-Reverte, a book which offers a reflection on the experiences of a war correspondent. The term denotes dangerous places and no-go areas.
The exhibition includes the iconic tale The Conquerors of the Sun (2012) about the propaganda train going from Moscow to Berlin, in 1920, and the film narratives about memory and forgetting (Fresh Cherries with Appendix, and Synecdoche). Another important element of the exhibition is one of the most recent video works by the artist: The Dark Matter of Art (2015), which is a tale about the contemporary artworld and the public (un)awareness of the artists who did not make it to be successful in the media.
Anna Baumgartis a post-conceptual artist, film director and set designer. She has exhibited her works in Poland and abroad, most notably in the Brooklyn Museum in New York, the CCA in Moscow, the Zachęta National Gallery of Art, and the Zamek Ujazdowski CCA in Warsaw. Her works have been shown at numerous film, video art and document festivals (e.g. Videobrasil in São Paulo, Videonale w Bonn, at the Era Nowe Horyzonty WATCH DOCS Festival, and the Impakt Festival). The film Fresh Cherries (2010) received the Audience Award for the best video film at the Loop Festival in Barcelona. The Conquerors of the Sun was shown, among other, in the Jewish Museum in New York and the New Horizons International Film Festival in Wroclaw.
The Comanche Territory — Discussion panel dedicated to the work of Anna Baumgart
15.10.2016 (Saturday), 12.00 PM / free admission
Moderator: Katarzyna Bojarska
Guests: Anna Baumgart, Małgorzata Radkiewicz, Marcin Jaranowski
Guided tour of the exhibition The Comanche Territory
23.10.2016 (Sunday), 12.00 PM / free admission
* * *
Wozownia Art Gallery, Ducha Św. 6
www.wozownia.pl/en