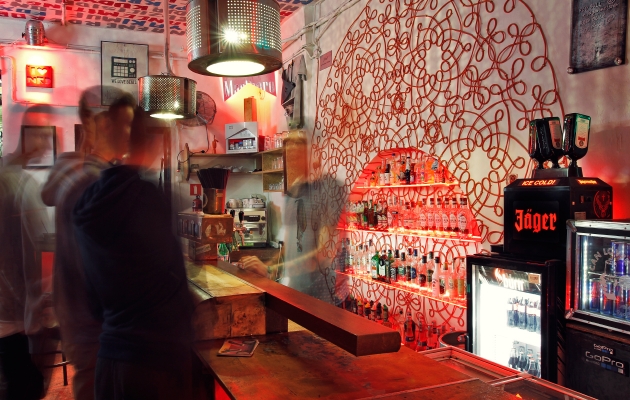 Residents NRD — an after party following the Opening Concert at the 14th edition of the Tofifest IFF
It is common knowledge that the best DJs in Torun have always had connections with the NRD Club. For that reason, it is already a tradition that our residents show how you are supposed to get a proper party started, once in a while. And the date is excellent, since it coincides with the opening of the 14th edition of the Tofifest IFF.
When: 15th October (Saturday)
Admission: Free to all that produce a ticket for the concert of Steve Nash & Film Orchestra; Holders of Tofifest passes: 5 PLN; All others: 10 PLN
Concert: Better Person
We are convinced that Adam Byczkowski, who hides under a pseudonym Better Person, needs no particular introduction, especially if you are involved in the music community. He started his career in Kyst, then played for a while with Pictorial Candi or Olivier Heim. Then, he travelled all over the world with Sean Nicholas Savage, and this year sees the première of the first EP by Better Person — It's Only You. The music he creates is definitely bigger that the confines of bedroom pop, as it is both pop music of the past and the future.
When: 16th October (Sunday), start at 8:00 p.m.
Admission: 15 PLN; Holders of Tofifest passes: 10 PLN
We Love Beats Tuesdays
Tuesdays in the NRD Club are filled with beauty. Each night is different. We Love Beats will try to bring the sounds they hold dear closer to you. Pay a visit to the club, if you are interested in such musical inspirations.
When: 18th October (Tuesday), start at 9:00 p.m.
Free admission!
Concert: Słuchaj Więcej
Music played from Vinyl records. More than that, it will be possible to buy a bottle of Prosecco at a discount price, on that day.
When: 19th October (Wednesday), start at 8:00 p.m.
Admission: 10 PLN; Holders of Tofifest passes: 5 PLN
Festival NADA #6 Sun Glitters (LUX)
The sixth festival concert (and also the penultimate one) will be a truly unique event, and it will feature a special guest — Sun Glitters! Sun Glitters is a project run by Victor Ferreira (born in Luxembourg), who has performed since 1998 under the pseudonym Sug(r)cane. He is a music producer combining dream pop melodies with the warm sound of synthesizers and dubstep rhythms. The melodies he created have been glimmering in the minds of fans of electronic music for many long years.
When: 20th October (Thursday), start at 9:00 p.m.
Admission: 20 PLN — Pre-sale; 30 PLN — On the day of the concert; Holders of Tofifest passes a 5 PLN discount! Tickets are also available on www.biletomat.pl
Trzaski vol. 8
TRZASKI is a selection of quite addictive dance music that belongs to many genres and form different parts of the world. With Italian soundtracks from 1970s, garage electronic music from New York, African surf music, and brass music from New Orleans, we will prove that it is possible to have fun to the music that you do not hear often on the radio. When warming up on the dance floor, we will be motivated by narrative and atmosphere. Everybody is invited, especially those open to new and not-so-obvious sounds!
When: 21st October (Friday), start at 10:00 p.m.
Admission: 5 PLN; Holders of Tofifest passes: free
Electro Moustache vol. 20
Electro Moustache is back! It's been a while, but here we come again with already the 20th edition! This time, dancing takes place at the NRD Club. Mixing music from LPs has been the concept behind the event since its very dawn — and nothing changes this time. Feel welcome to join us and experience a huge dose of Italo-Disco Electro Italo House. Only Music Survives! Perfomances by: Ratata, Different & Friends, Bartello.
When: 22nd October (Saturday), start at 10:00 p.m.
Admission: 10 PLN; Holders of Tofifest passes: 5 PLN; Tofifest VIP: free