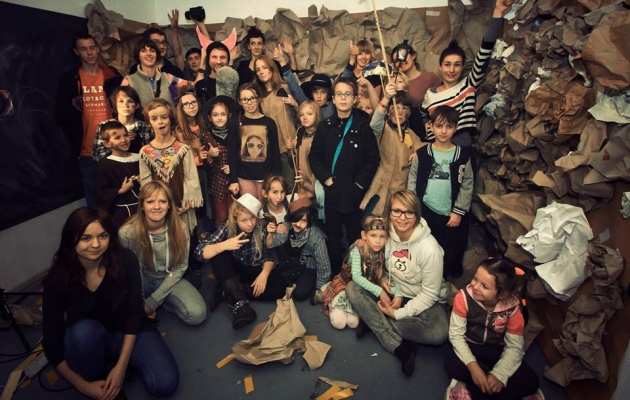 We would like to invite you to a series of workshops focusing on film education, which are part of the Movieplay! project.
MOVIEPLAY! is a transdisciplinary project that accompanies the Tofifest International Film Festival and focuses on informal education, addressed to children and youth. It is a combination of activities focusing on broadly-defined cinema, photography, sound, image editing, and including some forms of artistic actions and photography practice. MOVIEPLAY! popularises knowledge about cinema, defined as a synthesis of arts, as well as makes it possible to become familiarised with the multi-aspect and complex artistic process that accompanies visual arts.
The leading topic of this year's edition of Movieplay! is a TV theatre of sensation, i.e. a spine-chilling film performance. We will have to deal with unsolved riddles, missing prompters, boards and curtains, changing scenery, investigative proceedings... and all that in full light of spotlights...
When participating in workshops, children will learn about the process of making a film, who the director and screenwriter are, and what the clapper board is used for. They will also learn about the role of sound, both in cinema and theatre, and understand why some films are silent. We will also get to know theatres in Torun from the inside, in order to explore the concept of stage, and we will also have an intensive "training" in acting.
Ages of participants: 10 to 14 years of age.
When:

15th October (Saturday), from 2 p.m. to 6 p.m.
16th October (Sunday), from 2 p.m. to 6 p.m.
22nd October (Saturday), from 2 p.m. to 6 p.m.
23rd October (Sunday), from 2 p.m. to 6 p.m.

Where: KULTURHAUZ, ul. Poniatowskiego 5/2, Toruń
The workshops are conducted by: Katarzyna Bukowska, Damian Daniłowicz, Katarzyna Jankowska, Rafał Kołacki, Magdalena Kos, Dominika Miękus, Radosław Smużny, and Sandra Wilczyńska.
More information and registration available at: sztukacieszuka@gmail.com. Important! Once you have signed up your child for workshops, they are obliged to participate in the entire series of workshops (on 15th and 16th October, and on 22nd and 23rd October). The number of seats is limited!