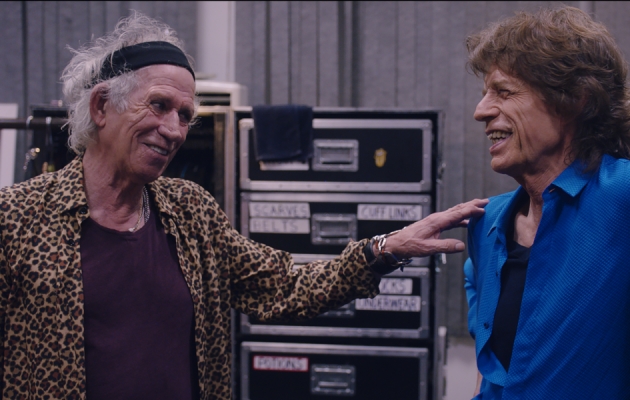 22 October, 19:00 · Od Nowa – new hall
There are few places The Rolling Stones have never played. Until this past spring, Cuba was one of them. This exhilarating rock 'n' roll road movie follows the Stones on their early-2016 tour of Latin America, climaxing with their historic Havana concert — an event of unprecedented scale for Cuba. Any Stones show is a major event but this is of a whole new magnitude, and it supplies director Paul Dugdale with fresh perspective on his rock-legend subjects. The Stones roll from Santiago to Buenos Aires, where fan devotion borders on a kind of religion. In São Paulo, Ronnie Wood immerses himself in street art; in Mexico City, a 12-piece mariachi band plays Happy; and in Lima, Mick and Keith reminisce about composing Honky Tonk Women before launching into a spellbinding unplugged rendition.
As the band make their way toward that final date in Havana, tensions run high with organizers — an overlap with the first visit from a sitting US president in 88 years and a brief dust-up involving the Pope nearly derail the show. Once the official announcement is finally made, the fans go wild in this country where people could've at one time been detained for listening to rock music. Dugdale has a trusted working relationship with the Stones, and he finds a noticeable ease in capturing the band in candid moments offstage. From Chile to Cuba, the band is greeted with the kind of fervor they elicited from crowds in the 1960s. This takes on an especially vivid quality when one open-air concert coincides with a rainstorm of biblical proportions.
Brimming with beloved hits, The Rolling Stones Olé Olé Olé! is a great time as well as a very emotional journey. When the band finally meets their Cuban fans face-to-face, everyone gets some profound satisfaction.
| | |
| --- | --- |
| Director: | Paul Dugdale |
| Screenplay: | Sam Bridger, Paul Dugdale |
| Music: | The Rolling Stones |
| Cinematography: | Jonas Mortensen |
| Editing: | Christopher Bird |
| Cast: | Mick Jagger, Keith Richards, Ronnie Wood, Charlie Watts |
| Production: | Sam Bridger |
| Distribution: | Hagi Films |
Paul Dugdale studied at London's Central Saint Martins School of Art. He is a director of music videos and documentaries, including Adele Live at the Royal Albert Hall and The Rolling Stones: Sweet Summer Sun — Hyde Park Live. The Rolling Stones Olé Olé Olé: A Trip Across Latin America is his latest film.