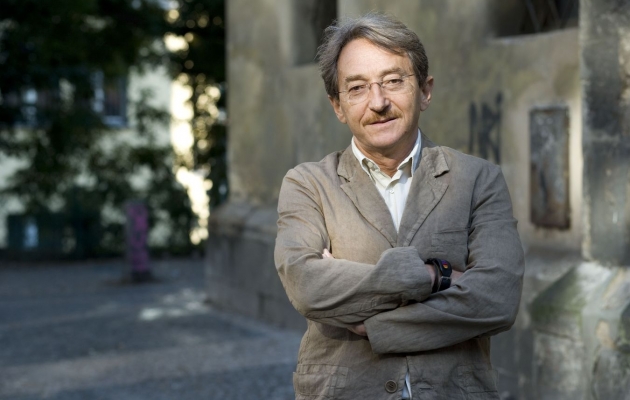 23 October, 12:00 · "Wejściówka" Café
Free entry
Allan Starski is one of the most award-winning production designers in Polish and international cinema. There are not many people, who are able to create completely different worlds, in such a credible manner, as he is. He demonstrated equal artistry in creating the world in the shocking drama about Holocaust, i.e. Schindler's List by Steven Spielberg, as he did in Brunet wieczorową porą (Brunet Will Call) — a cult comedy by Stanisław Bareja.
He was born in Warsaw, in 1943. In 1969, he graduated from the Department of Interior Design of the Academy of Fine Arts in Warsaw. As he now recollects: "I have always dreamt of becoming a graphic designer and decided that I would not follow in my father's footsteps, as early as in primary school. (...) I have graduated from the Department of Exhibiting, instead of choosing the Department of Production Design, because I thought I would never ever work in the film industry. It was only after studies that I did realise I had been fighting with myself." In 1969, he started his professional career, as a production designer in the Polish Film Producers Teams (Zespoły Polskich Producentów Filmowych).
For many years, he was part of the creative duo with Andrzej Wajda, providing production design for many films made by the latter. The films they have done together include: Man of Marble (1976), Without Anaesthesia/Rough Treatment (1978), The Maids of Wilko (1979) — nominated for Academy Awards, Man of Iron (1981), The Crowned-Eagle Ring (1993), or Pan Tadeusz: The Last Foray in Lithuania (1999).
His film work has been applauded on numerous occasions and awarded with the most prestigious film prizes. For example, he and Ewa Braun were awarded an Oscar for their production design in Schindler's List. The production design for The Pianist by Roman Polański, which won the Palme d'Or in Cannes, brought him the César French Film Award and the Eagle Polish Film Award. He was also nominated for the Emmy Award for his production design in the war drama Escape from Sobibor (1987) by Jack Gold. He would receive the Eagle Polish Film Award two times more – for his production design in Pan Tadeusz: The Last Foray in Lithuania by Andrzej Wajda and in Aftermath by Władysław Pasikowski. More than that, he was also awarded the Commander's Cross of the Order of Polonia Restituta for "extraordinary services for the Polish and international culture, achievements in professional work and for artistic accomplishments" (in 2013), and the Medal for Merit to Culture — Gloria Artis (in 2014).
Nonetheless, the winner of Oscar still remains a very modest man. In his book Scenografia (Polish for "Production design"), he even wrote that "a production designer is a man for hire." He has also emphasised the fact that he is always guided by artistic choices, when doing his work. Some time ago, he rejected a very lucrative offer from Hollywood, in order to make a film with Jerzy Stuhr, instead. "I can easily say that I have not made my films to keep a villa in Los Angeles, but I was driven by much more ambitious reasons," he said in an interview for "Krytyka Polityczna" (The Political Critique). He considers each new film a new challenge, and the key to his profession is... a drawing, according to his own opinion. "It is extremely important. Computers or computer-generated images — they are all just imitative", he explained in an interview for "Lavie" magazine.
According to his own opinion, the basic element in the work of every good production designer is to set up the reality in such a way, as to make it look natural, in a film. "It is a completely false supposition that a production designer is a person, who finds interesting outdoor locations and interiors, which they will later show to the entire film crew," he said to Anna Wróblewska, in an interview for the sfp.org portal. "The ability to design and create scenery in a film studio — this is the nitty-gritty of the job. If a production designer does not have that ability, he has merely learned to do the job," he added.
When in Toruń, Allan Starski will not only be awarded the honorary prize of Tofifest, but he will also have a meeting with our festival audience. More than that, he has himself selected the films from his extensive portfolio that have been included in the special section of the festival dedicated to his artistic work, at the request of Kafka Jaworska, director of the festival.