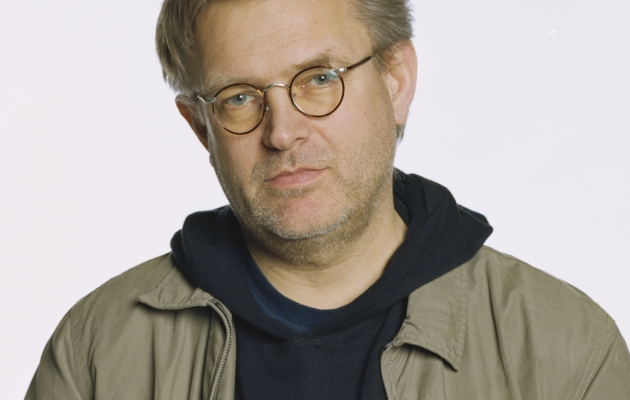 Bent Hamer is considered to be one of the leading exponents of auteur cinema in Norway. His film work is compared to the achievements of such notable directors, as Aki Kaurismäki, Roy Andersson, or Jim Jarmusch. He is very sensitive to absurdity and creates ambiguous cinema that received recognition, among others, at international film festivals in San Sebastián or Toronto.
Bent Hamer wasborn in Sandefjord, Norway in 1956. He studied film theory and literature at the Stockholm University, as well as attended the Stockholm Film School. His debut film was Eggs that had its première, as part of the Directors Fortnight section in Cannes. The film won numerous awards, including the FIPRESCI Award at TIFF, and an award at the Moscow Film Festival. His next film production ― Water Easy Reach (1998) ― was favourably received by film critics and later nominated for the Best Film at the Brussels IFF. Four years later, he premièred his third film, Kitchen Stories, a calm comedy-drama screened at forty international film festivals, which won numerous awards, including the FIPRESCI Award at TIFF, or the International Jury Prize for the Best Director in São Paulo. The film tells a story about a Swedish delegation "armed" with notebooks and diagrams, who pay a visit to a rural district in Norway, in order to record kitchen habits of bachelors living in the village. Following that film, Bent Hamer was offered to make Factotum ― an adaptation of a novel by Charles Bukowski. The film was made in English and with American actors. Factotum presents the twists and turns in the life of Henry Chinaski, Bukowski's fictional alter ego. In 2010, Bent Hamer made Home for Christmas, a film telling a story about a few people trying to find their way home to a small Norwegian town, despite difficulties, on a Christmas Eve. The latest film made by Bent Hamer is 1001 Grams. It is a story about a Norwegian professor, who participates in a conference dedicated to determining the real weight of 1kg.
The films made by Bent Hamer were screened at more than 80 different international film festivals, and distributed in more than 40 countries, which makes this Norwegian filmmaker one of the most interesting and most popular contemporary film directors from Norway. "A typical Scandinavian, according to the popular stereotype well-established around the world, is melancholic, cool, and prudent. And there is a grain of truth in that. We may, in fact, be a little too gloomy and reasonable. This is the effect of the severe nature we live in, and it does not deal kindly with us," he explained in one of his interviews. His films are commonly regarded as peculiar and distinctive, in terms of style, but at the same time warm, funny, and above all universal. There is even a term that has been coined to describe them: "A Hamer Universe".