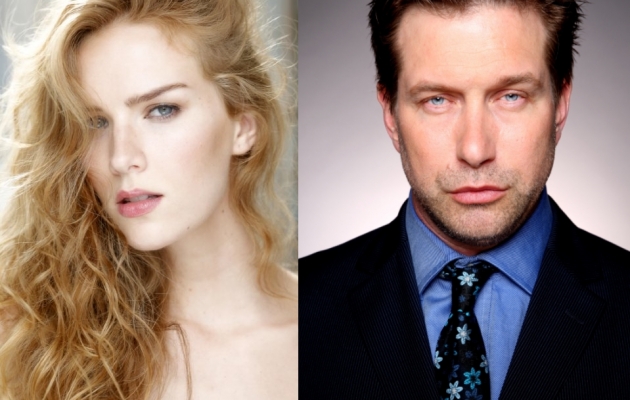 Polish director Tomasz Szafrański, never ceases to amaze us. Barely closed the production of the comedy Klub Włóczykijów with composers from Hollywood, while in parallel, in Los Angeles, he finished the second. In the comedy No Panic, with a Hint of Hysteria will play Stephen Baldwin and rising star from the UK, Charlotte Kirk.
The main hero, played by Baldwin, is involved in some scam. The producers for the time being does not reveal anything more. At the moment in Los Angeles ends up making music for the film. Filming began in April, in Warsaw. Baldwin, praised the cooperation with Thomas Karolak "We've had a lot of fun on set" - said in an interview.
Stephen Baldwin is the youngest member of the Hollywood "Baldwins clan". He was born in 1966 in Long Island, New York. We know him from the movies The Usual Suspects (1995), The Young Riders (1989) and Born on the Fourth of July (dir. Oliver Stone, 1989). Currently finishing up post-production until four films with his participation: Tapestry, Scarlett, The UnMiracle and Balance and Streetball: Game Over.
Charlotte Kirk, rising stars of British cinema, began as a model in international fashion magazines, among others Vogue, photographed by such masters as Patrick Demarchelier. He has already won a role alongside Bruce Willis in a futuristic thiller Vice. Currently he working on three films. In Tekken: Kazuya's Revenge, will play even... a assasin-woman.
We will also see Alexander Chance, known for The Sweetest Thing (The Sweetest Thing, 2002) and Revenge of the furries (Furry Vengeance, 2010).
As always in the films of Tomasz Szafrański, for the music and its arrangement correspond to the first-class specialists from Hollywood. Music for this movie was composed by Luke Corradine. Australian composer, made music for many ballets and theater performances, but as a versatile creator, also wrote the soundtracks fo Nokia ads. Soundtrack arrangement for orchestra conducted Daniel Clive McCallum - winning American composer. He has worked on numerous films, including The Hobbit: An Unexpected Journey.
Polish producers are CinemaVision and Nathaniel Productions (producing a second full-length Tomek - Klub włóczykijów).
©℗