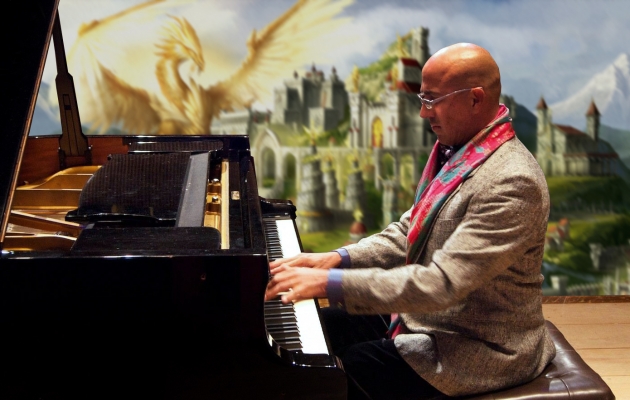 Paul Anthony Romero will play his own music composed for the the Heroes of Might and Magic series of computer games, during the Closing Ceremony of the TOFIFEST International Film Festival, on 24th October. The concert in Torun will be the very first performance of this American composer in Europe. Tickets for this event can already be bought.
It will be a very special occasion, as it will not be a single première, but as many as three. Romero will present his music during the Closing Ceremony of the TOFIFEST International Film Festival, as part of a piano concert under the name "Heroes of Might and Magic Piano Sonata". It will mark his first ever performance in Poland and Europe, and also the very first opportunity to present the soundtrack to HOMM, at a film, festival.
I'm going to play this concert for my Polish and European fans. It is very important to me that I will get to know them, give them my music and feel their reactions, says Romero.
Paul Anthony Romero is one of the most talented and renowned artists, who compose music for video games. His most often associated with Heroes of Might and Magic – a series of turn-based fantasy strategy games, which has a cult status among players. The work of Romero is frequently compared to classical music pieces, which comes as no surprise: I grew up hearing the music of Bach, Handel, and Scarlatti, he recalls. He debuted in front of a big audience, when he was only 11, giving a piano performance of works by Mozart, to the accompaniment of Santa Monica Symphony Orchestra. He gave his first piano concert based on his own compositions only two years later. It was already the point when his music career was gaining a huge momentum, and brought about tournees and album releases.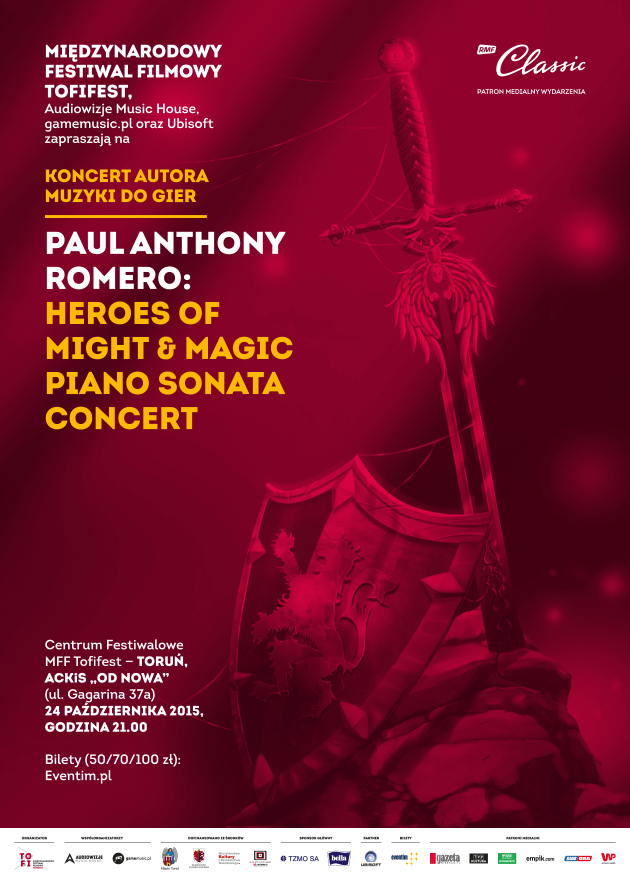 The first opportunity for fans of computer games to hear music composed by Romero came in 1995, when the world saw the première of Heroes of Might and Magic: A Strategic Quest, a game made for New World Computing (it is now Ubisoft). In the successive episodes of the game, Romero cooperated with great many musicians, but it is Rob King that has made a special bond with. Together, they have composed many music themes for HOMM that we are all so familiar with. Romero is also the author of soundtracks for films, games, musicals, and opera works.
The performance of Paul Anthony Romero will be an event that accompanies the 13th edition of the Tofifest International Film Festival in Torun. Co-organisers of the festival include Audiowizje Music House and Gamemusic.pl (the biggest Polish website dedicated to music for video games), in cooperation with Ubisoft Polska. Tickets are already available on eventim.pl.
The Tofifest Festival is referred to as "rebellious" and it presents more than 100 full-feature films from several dozen countries, every year. The films include winners of Cannes, Berlinale, and Venice, as well as candidates for Academy Awards, and carefully selected international debuts. The main prize of the festival is the Golden Angel that is awarded in four main competitions. There are also Special Angels for Artistic Insolence, which go to the most prominent cinema celebrities. Those, who have already received such Special Angels, include Jim Sheridan, Janusz Gajos, Jiri Menzel, Jerzy Stuhr, Geraldine Chaplin, Wojciech Smarzowski, Krystyna Janda, and many others.
Tofifest 2015 will take place from 18th to 25th October, in Torun. The primary patron of the festival is the City of Torun and Bella Sp. z o.o. The event is financed from the funds of the Kujawsko-Pomorskie Regional Government, the Polish Film Institute, the Ministry of Culture and National Heritage, and the Creative Europe programme.