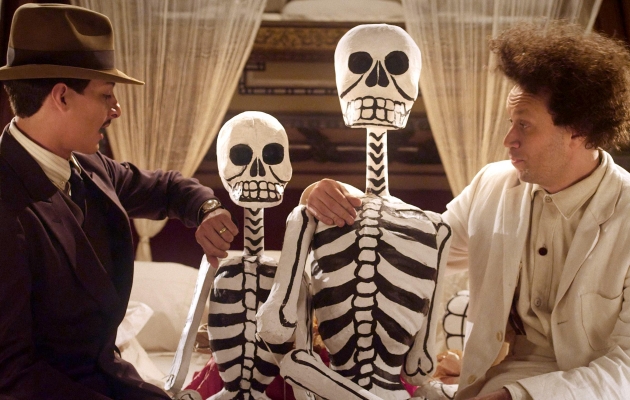 The author of The Draughtsman's Contract or The Pillow book will be represented at Tofifest 2015 by his latest film Eisenstein in Guanajuato. Trailer
This the latest production released by this unique film director, who is famous in Poland for The Baby of Mâcon or Goltzius and the Pelican Company, to name just a few of his films. The plot in Eisenstein in Guanajuato is set in Mexico, which is interpreted by the author as a Mecca of eroticism, death, and love. That becomes the starting point to tell a story of the main protagonist, Sergei Eisenstein. Greenaway uses the figure of the Russian film director to portray the artistic and spiritual metamorphosis of the artist, but also to emphasise somewhat licentious aspects of his homosexual relationships. But what Greenaway has concocted in the film is hardly any surprise. Eisenstein in Guanajuato is far away from being a meticulously prepared documentary. Instead, we are offered Baroque sumptuousness and a visual feast, spiced up by a portion of insane psychedelics.
The Polish distributor has slightly changed the original title from Eisenstein in Guanajuato to Eisenstein in Mexico, being mindful that Polish people have problems with identifying places, in terms of geography. Guanajuato is the capital city of Guanajuato, one of 31 states in Mexico, which owns its international fame to the breathtakingly beautiful Old Town.
Eisenstein in Guanajuato dir. by Peter Greenaway
Tofifest FORUM 13/14