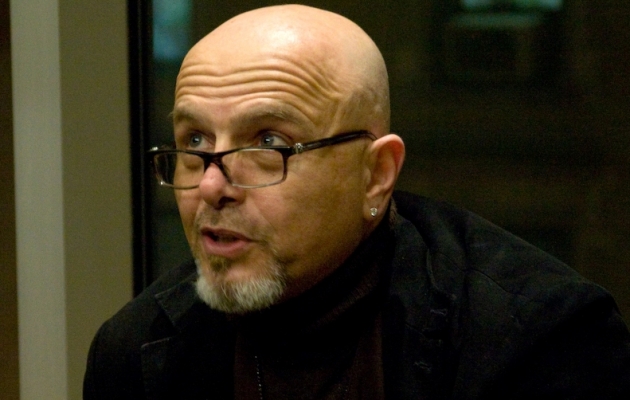 We are disclosing the name of the last member of the jury in the ON AIR main competition at Tofifest 2015. It is Joe Pantoliano, winner of the Emmy Award. He is an American actor, producer, and director, who has become famous, thanks to his roles in Matrix, Bad Boys, or The Sopranos TV series. While at Tofifest, he is also going to present his own film production No Kidding, Me Too!, which discusses the struggle against depression.
Joe Pantoliano is a man, who cannot be easily classified into a single category. He is an actor, director, producer, and screenwriter. He has more than 175 films, TV appearances, and theatre performances, under his belt. Pantoliano is going to be a member of the jury in the ON AIR main competition, alongside Anne Fontaine (Coco Chanel), Wojciech Kuczok, Katarzyna Roslaniec (Mall Girls), Ada Condeescu (Love Island), Umut Dag (Kuma), and Piotr Czerkawski. The actor has been fighting to make other people understand what it is like to have depression, for many long years, being himself one of its victims. For that reason, we will see the première of his documentary film No Kidding, Me Too!, in Torun. The film deals with the struggle against this disease.

Audience all around the world remember Joe Pantoliano for his role as Cypher, a rather dark character from the ground-breaking sci-fi blockbuster Matrix. His role as Ralph Cifaretto in The Sopranos TV series has brought him the Primetime Emmy Award. While in Torun, he will talk about his latest project that is being made in cooperation with Andy and Lana Wachowski, Sense 8, for Netflix.com.

His first successful appearance on the silver screen was the role of Guido the Killer Pimp in Risky Business (1983) by Paul Brickman, in which he played alongside Tom Cruise and Rebecca de Mornay. In 1985, he became a star among teenagers of that time, thanks to the role in a blockbuster The Goonies. He has also accompanied Tommy Lee Jones and Harrison Ford in The Fugitive (1993), in which he portrayed Sheriff Cosmo Renfro. He has also been cast for both parts of Bad Boys with Will Smith and to portray Teddy in the Oscar-awarded Memento by Christopher Nolan. At the beginning of his film career, he appeared in the cult TV series M.A.S.H.

For many years, the actor has struggled for the right of the people affected by depression and bipolar affective disorder. He strongly opposes social stigmatisation of people suffering from such diseases and encourages them to be talk about their complicated conditions without embarrassment. And that takes us directly to the already mentioned presentation of No Kidding, Me Too!, after which Joe Pantoliano is going to meet with the audience.

Let us use the opportunity to mention that another special guest to the festival will be Anna Dymna, who is going to receive a special Golden Angel Award for Artistic Insolence. The actress is known for her social activities and she is going to meet students from special schools and residents of nursing homes, in Torun. Tofifest is a rebellious festival that guarantees not only excellent cinema and extraordinary guests, but also openly discusses problems of people looking for help.

The 13th edition of the Tofifest International Film Festival will be held in Torun, from 18th October to 25th October, 2015.