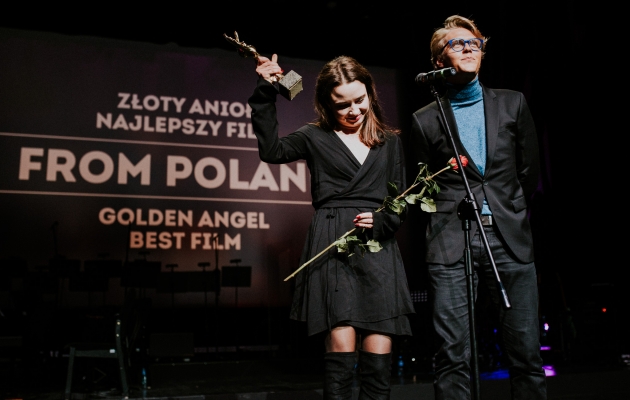 It is "The Fastest", which won the Golden Angel of Tofifest in the "From Poland" competition, last Saturday. The winner was selected by the audience from among all the films included in the afore-mentioned section. Therefore, it should not come as a surprise that the Audience Award went to a film from Poland, as well.
However, it was a tough fight for the winner, until the very last moment. "The Fastest" has won by the mere 0.6% against "Custody" by Xavier Legrand, which won the Grand Prix Award of the Festival, during the same Closing Ceremony on Saturday.
It came as a big surprise to the organisers to learn that the old good "Leon the Professional" by Luc Besson screened during the festival placed third, and its final score was only 2% below the winner. The first six places are also occupied by Swiss "The Divine Order" ("Die göttliche Ordnung") by Petra Biondina Volpe, together with "Loving Vincent" by Dorota Kobiela and Hugh Welchman, and "Day of the Wacko" by Marek Koterski, winner of this year's Golden Angel for Artistic Insolence.
The main protagonist in "The Fastest" is a Polish sportsman, who made the world speechless, but remains a largely unknown figure in his own country. It is a fascinating story, full of extreme physical effort, spectacular failures, and immense fortitude, inspired by the life of Jerzy Gorski. He completed the so-called Death Race and set a new record in Triathlon Championships, winning the title of the Double Ironman Triathlon Champion.
However, he would have not achieved such a score, had it not been for two women, who came into his life. He lost one of them, but the other one became his inspiration to fight for his own life. Lukasz Palkowski, author of "Gods", directed the film. Cinematography in the film is the work of camera master Piotr Sobocinski Jr., and one of the best editors in Poland, Jaroslaw Barzan, edited it. The film cast includes Jakub Gierszal, Anna Prochniak, Arkadiusz Jakubik, Janusz Gajos, Artur Zmijewski, and Magdalena Cielecka. The film was produced by Krzysztof Szpetmanski, who came to Torun together with Jakub Gierszal and Anna Prochniak, to meet the audience at Tofifest (report in Polish).
Palkowski's film had already won once Audience Award, which happened at the Gdynia Film Festival. The Jury in Gdynia also awarded the film the "Golden Lions" for Professional Acting Début, and the "Golden Lions" for Best Production Design.
The next, 16th edition of the Tofifest International Film Festival comes in October 2018! Stay with us and check all new information on www.tofifest.pl and on Facebook.