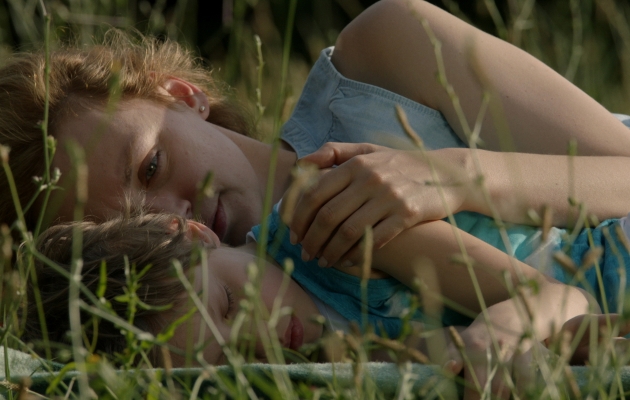 20 October, 15:00 · CKK Jordanki
A child jumping on a trampoline in the park, and a rainstorm breaking over the city: this is the crossroads where our three stories meet. Running away from her mother, seven-year-old Lina meets teenage dreamer Nika and mother-to-be Nikolina. Superficially very different, they act as mirrors into one another's lives, providing a glimpse into what Lina's own future might hold. Their chance encounter will open up new possibilities and reveal the fault lines in their families that until now, have been carefully hidden from sight. The little girl is still wants to win her mother's love, the teenage girl dreams of escaping from a mother's love gone sour, and the pregnant woman is terrified of repeating the abusive cycle of her childhood. This is not a conventional love story, but it is, absolutely, a film about the double-edged nature of love.
| | |
| --- | --- |
| Director: | Katarina Zrinka Matijević |
| Screenplay: | Katarina Zrinka Matijević, Pavlica Bajsić, Ivan Salaj |
| Music: | Šumovi protiv valova |
| Cinematography: | Vjeran Hrpka |
| Editing: | Ana Štulina |
| Cast: | Franka Mikolaci, Frano Mašković, Igor Kovač, Enes Vejzović, Lana Barić, Tena Nemet Brankov, Nina Violić, Marija Tadić |
| Production: | Ivan Maloča |
| Producer: | Interfilm Produkcija d.o.o, Hrvatska radiotelevizija (HRT) |
| Awards: | 63. edycja FF w Puli / 63rd Pula FF – Nagroda Złotej Areny: Najlepsza Aktorka Drugoplanowa / Golden Arena Award: Best Supporting Actress (2016) |
Katarina Zrinka Matijević was born in Zagreb in 1973. She obtained her degree in Film and TV Directing from the Zagreb Academy of Dramatic Art and also studied Philosophy and Comparative Literature at the Faculty of Philosophy in Zagreb. So far she has directed and written around fifteen documentary and short fiction films.
Filmography:
2016 — Trampoline / Trampolin
2016 — Iza lica zrcala
2003 — Pescenopolis
2002 — Reci Sasa sto je?
1998 — Dvoboj
1997 — Kap