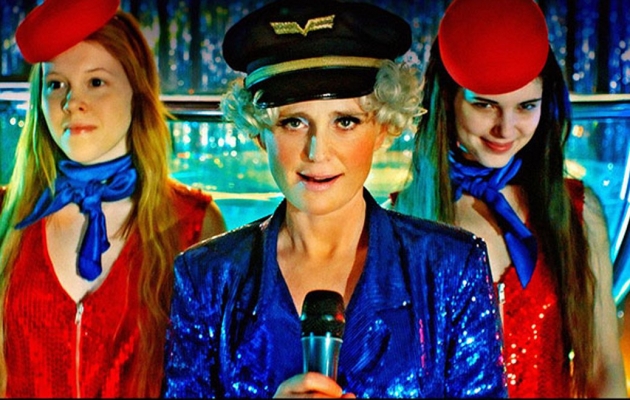 16 October, 15:00 · CKK Jordanki
Two teenage girls ― Golden and Silver ― find themselves right in the centre of the world of Warsaw dancing parties, vibrant with music, and shimmering with neon lights and sequins, in 1980s. And they are not just some ordinary girls, but sirens, who are trying to taste and understand what it is like to be a woman in the environment around them. They join a band of musicians that go by the name of Figi i Daktyle (Figs and Dates) and become the next big thing in the night life of the capital city, just overnight. Absorbed with love and arising desires, they forget about their true nature for just a moment. But it only takes one broken heart to let the situation spin out of control...
| | |
| --- | --- |
| Director: | Agnieszka Smoczyńska |
| Screenplay: | Robert Bolesto |
| Music: | Ballady i Romanse (zespół / band) |
| Cinematography: | Jakub Kijowski |
| Editing: | Jarosław Kamiński |
| Cast: | Marta Mazurek, Michalina Olszańska, Kinga Preis, Jakub Gierszał, Andrzej Konopka, Zygmunt Malanowicz |
| Production: | Włodzimierz Niderhaus |
| Producer: | Wytwórnia Filmów Dokumentalnych i Fabularnych (Warszawa) |
| Distribution: | Kino Świat |
| Awards: | FF w Sundance / Sundance FF – Nagroda Specjalna Jury / Special Jury Award (2016); Orły / Eagle Awards – Odkrycie Roku / Discovery of the Year (2016); FF w Gdyni / Gdynia FF – Złote Lwy: Najlepszy Debiut Reżyserski, Kryształowa Gwiazda Elle, Najlepsza Charakteryzacja / Golden Lions: Best Directing Debut; Elle Crystal Star, Best Characterisation (2015); Netia OFF CAMERA – Wyróżnienie Specjalne, Nagroda FIPRESCI / Special Mention, FIPRESCI Prize (2016) |
Agnieszka Smoczyńska ― she has graduated from the Department of Directing of the Krzysztof Kieślowski Faculty of Radio and Television University of Silesia in Katowice and Wajda School, and also from the Culture Studies at the University of Wrocław. She received a scholarship from the Minister of Culture and National Heritage. To this date, she has made the following short films: Aria Diva, 3 love, and Kapelusz, all of which have won several dozen awards at film festivals, both in Poland and abroad.
Filmography:
2015 ― Córki dancingu / The Lure
2010 — Viva Maria!
2007 — Aria Diva
2004 — 3 Love