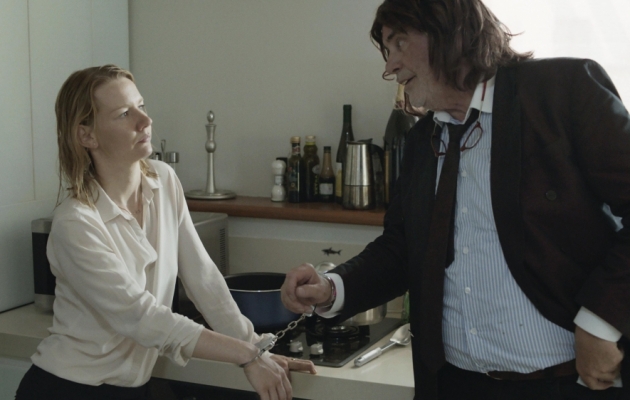 19 October, 20:30 · Od Nowa – new hall
Winfried doesn't see much of his working daughter Ines. The suddenly student-less music teacher decides to surprise her with a visit after the death of his old dog. It's an awkward move because serious career woman Ines is working on an important project as a corporate strategist in Bucharest. Practical joker Winfried loves to annoy his daughter with corny pranks. Father and daughter reach an impasse, and Winfried agrees to return home to Germany... Enter flashy Toni Erdmann: Winfried's smooth-talking alter ego. Disguised in a tacky suit, weird wig and even weirder fake teeth, Toni barges into Ines' professional life, claiming to be her CEO's life coach. As Toni, Winfried is bolder and doesn't hold back, but Ines meets the challenge. The harder they push, the closer they become.
| | |
| --- | --- |
| Director: | Maren Ade |
| Screenplay: | Maren Ade |
| Cinematography: | Patrick Orth |
| Editing: | Heike Parplies |
| Cast: | Peter Simonischek, Sandra Hüller, Michael Wittenborn, Thomas Loibl, Trystan Pütter, Hadewych Minis |
| Production: | Janine Jackowski, Maren Ade, Jonas Dornbach, Michel Merkt |
| Distribution: | Gutek Film |
| Awards: | FF w Cannes / Cannes FF – Nagroda FIPRESCI, Udział w Konkursie Głównym / FIPRESCI Award, Participation in the Main Competition (2016) |
Maren Ade was born in 1976 in Karlsruhe. She is film director, screenwriter and producer. Starting in 1998, Maren Ade first studied film production and media management and then later film direction at the University of Television and Film (HFF) in Munich. She lives in Berlin, teaching screenwriting at the Film Academy Baden-Württemberg in Ludwigsburg. In 2009 she received Silver Bear for Best Film for film Everyone Else.
Filmography:
2016 ― Toni Erdmann
2009 ― Wszyscy inni / Everyone Else
2003 ― The Forest for the Trees