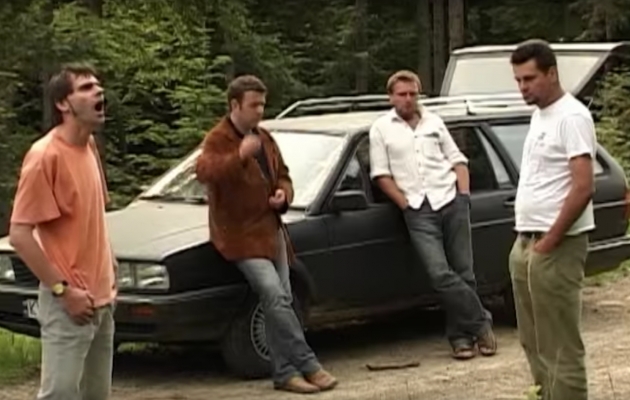 We would like to present the first ever Polish film festival with a section dedicated to bringing back the great grass-roots revolution that swept through Polish cinemas, in the years 1998—2007. It was the "Revolution of Independent Films".
Indeed, the independent film genre (in Poland referred to as "off" cinema) produced some of the most interesting and intellectuallymost original films, during the afore-mentioned decade. It was a time, when people "from nowhere" started making films, and they often had virtually no connection with the film industry. The effect? The won the hearts of audiences. They were such film productions as Kallafiorr by Jacek Borcuch, Krew z nosa by Dominik Matwiejczyk, Homo Father by Piotr Matwiejczyk, I co wy na to, Gałuszko? by the duo of Marcin Sauter and Maciej Cuske, or 1409. Afera na zamku Bartenstein by Kompania M3 from Torun — and they became instant classics.
By introducing this section, we return to our own roots. After all, the first Tofifest (back then, it was called "Toffi") was a festival of independent films — it was a small-scale review of independent films, which was a continuation of the concept started in Dom Muz (a centre for culture).
But let us go back to the end of the twentieth century and the beginning of the twenty-first century. It was not a particularly good time for Polish cinema. The film industry had no money, which resulted in producing rather poor films in the so-called mainstream cinema. Polish films were permanently underfunded, which had its toll on the work of even the best of film directors. And we need to remember that the Polish Film Institute came to existence, as late as in 2005. The Polish Film Festival that took place in Gdynia accepted all films made in a given year, because their total number would never exceed 15 or 20 productions. It was the time when such oddities as Gulczas, a jak myślisz... (dir. by Jerzy Gruza), or Polish Kitsch Projekt (dir. by Mariusz Pujszo) were made — today, they would be treated as a funny joke, at best. Unfortunately, back then they were widely commented in the mainstream media.
No wonder that audiences turned their back on Polish cinema. In order to bring them back to cinemas, film-makers took to making novel adaptations. But if truth be told, big productions, such as Ogniem i mieczem (dir. by Jerzy Hoffman, 1999) and Quo vadis (dir. by Jerzy Kawalerowicz, 2001) were spectacular failures. There was also no shot in the arm for Polish cinema from such successful films as Zemsta (dir. by Andrzej Wajda) or The Pianist (by Roman Polański), a winner of the Palme d'Or.
Fortunately, there was finally "a bomb that blew up" in the film industry, so to speak. Independent films came up and we had a true revolution. At the very dawn of the genre, its initiators had absolutely no clue how big it would later grow to be. However, they soon realised the scale of the revolution and the country was virtually flooded with festivals dedicated to independent films, presenting the best productions of independent film-makers (sometimes they would also screen the absolutely worst productions). One of such festivals was the "OFF" festival in Toruń. It would later be changed to Toffi.
It all started with short films made by Zespół Filmowy Skurcz (particularly with Kallafiorr by Jacek Borcuch, who would later make All That I Love). At the turn of the 21st century, film-makers started creating the already mentioned full-feature films, but there was also a true avalanche of short films. Such names as Matwiejczyk, Bodo Kox, Sztandera, Marczewski (Jr.), Nojman, or Mezler became recognised brands on a daily basis, same as with DDN Group or Kompania M3.
We presented their films at both Toffi and Tofifest festivals. Today, we want to go back to the very best of independent films, by giving you the Polish Independent Film Classics section. And although some of them may seem a little offensive with their clear cock-ups, we believe that every enthusiast of Polish cinema that has a sense of self-respect should definitely know them. First and foremost, because they are the very roots of the great transformation that made Polish films of today receive Academy Awards, Golden Bears, and Golden Lions — and secondly, because they were made in the time when people had great faith in cinema and loved it dearly. And we love cinema no less!