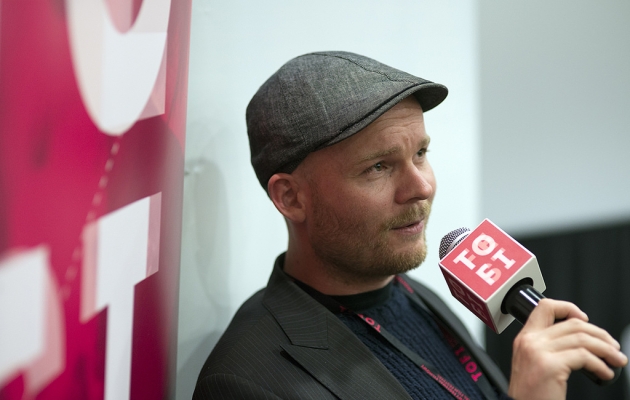 The Tuesday belonged to Julian Sands. His monodrama A Celebration of Harold Pinter got a standing ovation by the audience of Tofifest. The British actor known for his performances in A Room with a View and The Killing Fields, and working with Roland Joffe, Wim Wenders, or David Cronenberg, crushed the audience with the simplicity and beauty of his performance.
He was all alone on a big and empty stage, and yet he filled it with his presence, as if there were other actors along with him. He mesmerised the audience with his voice and economical gestures alone.
The film highlight of the day was Rams by Grímur Hákonarson (in the photo). The auditorium was crammed with people, including the stairs as well, who came to see the Polish première of the film, in Torun. Following the screening, the Icelandic director participated in a meeting with the audience, and the conversation turned into a cheerful dialogue.
As part of the ON AIR main competition, there was a screening of You carry me by Ivona Juka. Undoubtedly, the artistic highlight of the day was the screening of Horse money by Pedro Costa. This master of cinema from Portugal is the hero of the FORWARD retrospective.
That day, there was also a fantastic focus on Torun. Following the screening of Charon, the audience had a chance to talk to its director, Pawel Hejbudzki. It is worth mentioning that the film has won the Young Cinema Competition at the Gdynia Film Festival 2015.
The day ended at the Festival Club ENERDE with We Love Beats – DJ's Party.