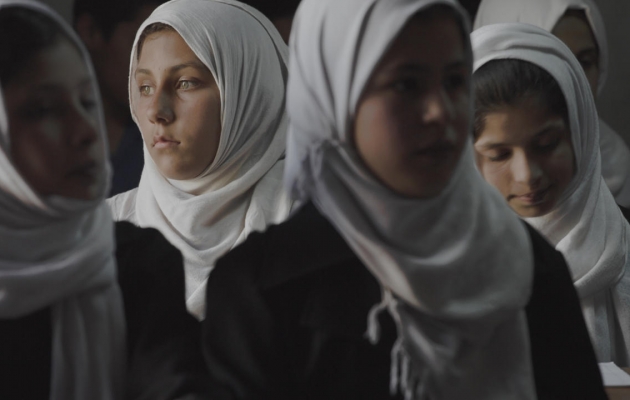 When all the votes have been finally counted, we can officially announce that the Canadian-Afghan co-production Mina Walking by Yosef Baraki has won the audience award at the 13th edition of the Tofifest International Film Festival. The beautiful film about a 12-year-old girl from Kabul enchanted the audience at the festival in Torun.
Although Tofifest ended last Sunday, we have only today completed verifying all the audience votes. Mina Walking was a competitor in the ON AIR main competition and it slightly outstripped Karbala by Krzysztof Lukaszewicz and Bones by the Portuguese master of cinema Pedro Costa. The Afghan director that lives and works in Toronto was one of the guests to Tofifest.
The film by Yosef Baraki, which has been presented at this year's Berlinale and nominated for the Crystal Bear, is a storey about Mina, a 12-year-old girl, who sells trinkets on the streets of Kabul. As the sole family supporter, she must face the challenge of reconciling education and working to get money. This Canadian-Afghan co-production is based on an inspiration of the director, which came after meeting a group of child street sellers working on the streets of Kabul. According to Baraki himself, it is quite fascinating and unheard of to meet an Afghan woman, who earns more that a man (which means that she is capable of being independent). The raw cinematography based on lukewarm colours exposes the tragedy behind premature coming of age, and the struggle for survival in a world full of danger and risk. The entire film was made by a very small crew comprised of just a few people. There is only a limited number of professional actors featured in the films, all other are amateurs.
Let us also mention that the Polish Karbala, which was voted second in the poll, is the winner of the FROM POLAND competition of Polish films and got the Golden Angel of Tofifest. As for Bones, it was part of the FORWARD section that presented brilliant masters of modern cinema, and this year the section was dedicated to Pedro Costa.
The list of awards given at Tofifest 2015 can be found HERE.