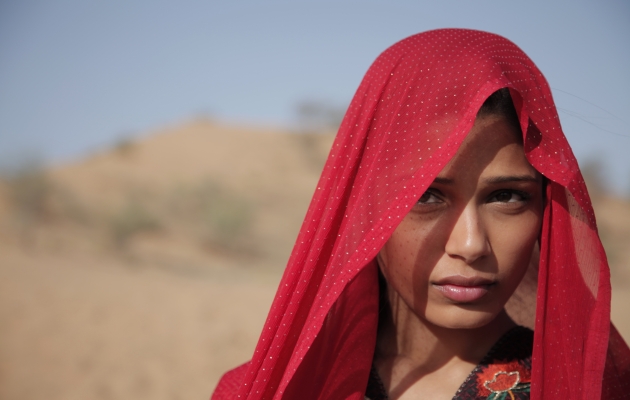 Screenings
10/23, 20:00 · Baj Pomorski – hall A
Trailer
Trishna is a modern love story, saturated with the atmosphere of India and based on Tess of the d'Urbervilles: A Pure Woman Faithfully Presented by Thomas Hardy. Trishna (which means physical desire in Hindi) is a beautiful, delicate and sensual 19-year-old Indian woman, who lives with her family in Osian, a small village in the state of Rajasthan, in India. One day, she meets Jay Singh, during an evening of traditional Indian dances, which takes places at the hotel near her village. This is a handsome and rich 20-year-old Indian man, educated in Great Britain — every girl's dream. Jay falls in love with the charming Trishna, as she sees her as the epitome of purity, beauty and sensuality of the traditional India with which he wishes to be reunited. When her father has an accident with a lorry and loses the source of income, Jay offers Trishna a well-paid job in a luxurious hotel, managed on behalf of his father. Leaving her family home is the chance of a lifetime for Trishna — the work in the hotel is highly profitable, but on top of that she has found a passionate love she could not possibly escape from...
| | |
| --- | --- |
| Director: | Michael Winterbottom |
| Screenplay: | Michael Winterbottom |
| Music: | Amit Trivedi, Shigeru Umebayashi |
| Cinematography: | Marcel Zyskind |
| Editing: | Mags Arnold |
| Cast: | Freida Pinto, Riz Ahmed, Anurag Kashyap, Roshan Seth, Kalki Koechlin, Meeta Vasisht, Harish Khanna, Neet Mohan, Aakash Dahiya |
Michael Winterbottom — He was born in 1961 in Blackburn, in the county Lancashire. He is a British director, screenwriter and producer. Winterbottom has graduated from the faculty of English studies at the University of Oxford. Ha has also studied in Bristol and London. His film debut was two documentaries about Ingmar Bergman, but his final choice was the directing of fiction films. He has received numerous awards at many international film and television festivals. Michael Winterbottom is a co-owner of the Revolution Films studio, together with producer Andrew Eaton.
Filmography (selected):
2012 – Seven Days, Bailout
2011 – Triszna. Pragnienie miłości / Trishna
2010 – Morderca we mnie / The Killer Inside Me
2008 – Genua. Włoskie lato / Genova
2006 – Droga do Guantanamo / The Road to Guantanamo
2004 – 9 Songs
2003 – Kodeks 46 / Code 46
2002 – 24 Hour Party People
2000 – Królowie życia / The Claim
1999 – Wonderland