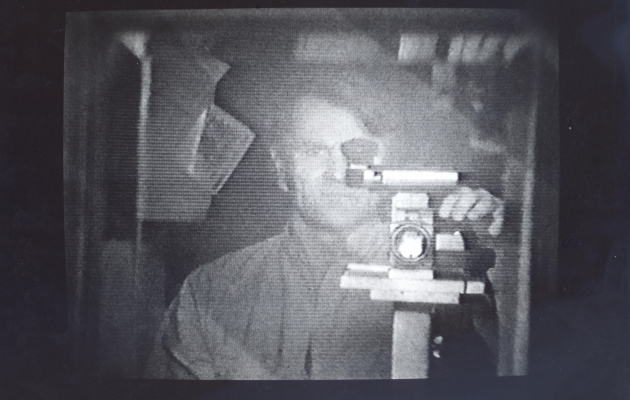 Józef Robakowski is one of the most cherished Polish artists. One of the leading figures in the neo-avangarde art movements of the 60s and 70s, maker of experimental films counted among the classics of structural cinema and co-creator of the Polish video art of the 70s.
My Own Cinema is an extensive presentation of the work of Józef Robakowski. The project is undoubtedly important not only because Robakowski is one of the leading Polish artists, but also because of his close relationship with the cultural enviroment of Torun and its University. In Toruń assumed artistic groups: Eye, Zero-61, Circle and was member of the Creative Club Student Film "Loop". In Toruń studied art history and began to form as an artist, which designated the direction of his later activities as an artist, an intellectual, a fighter and a catalyst for many important artistic movements and demonstrations.
Watching My own cinema exhibition, we see artistic practice of Robakowski shown from two different, but related perspectives: Expanded cinema and My very own cinema. The perspective of Expanded cinema is a challenge to the perceptual habits of the viewer as he/she is attacked by light, sound or other forms of media. In this framework will be shown films counted among the classics of structural cinema; productions that experiment with the purification of the filmic language (by clearing it of literature, plot, anecdote). At that time Robakowski was also interested in conditions of human perception towards to camera and film, as well as the role of the latter as an extension of the psychological and physiological functions of the human body. On the other hand, under the slogan My own cinema hidden movies based on the observation of immediate environment and "self-observation"; films and videos in which the artist proposed his own, distinct perception of the reality of People's Poland and where the strategy of privateness became a political gesture. Artist is here at the same time protagonist, creator, author and narrator. As curator Bożena Czubak says it "brings together the artist's filmic self-portraits, self-ironic games with his own image, in which he mocks artistic myths, challenges the modernist tradition, and polemicizes with the cultural establishment".
The works displayed in the spaces of the Centre for Contemporary Art Znaki Czasu suggest a narrative from which emerges, as Bożena Czubak writes, "an image of the artist combining an experimenter and new media analyst with an anarchistic neo-Dadaist and declared nihilist, a heir to avant-garde traditions with an enthusiast of cultural peripheries, one of the most active animators of artistic life with an author of highly personal filmic narratives, a frequent guest of international festivals with a spokesman for the 'progressive Łódź scene', a valued teacher with a critic of institutional hierarchies". The exhibition features films, videos, performance documentations, installations and photographs.
Opening: Thursday, 25th October, 7 PM, Free entry
Friday, 26th October, free entrance for TOFIFEST participants (with the festival tickets)