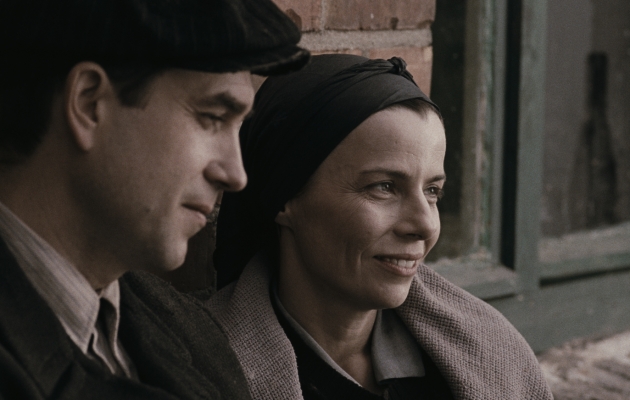 Screenings
10/20, 13:30 · Kino Centrum
Trailer
It is summer 1945. Tadeusz is a former soldier of the Armia Krajowa (Home Army), who lost everything during the war, is going through Mazury (Masuria). He was spared nothing, including witnessing the death of her own wife, murdered by Nazi soldiers. He finds a German soldier's widow — the soldier Tadeusz saw die. An evangelical pastor directs Tadeusz to the house where Rose lives and warns him that the woman had recently lost her daughter. Rose lives all by herself, on a large farm. She treats Tadeusz rather coolly, but lets him stay for the night. Tadeusz repays the hospitality, by clearing a potato field of mines. It is hard for Rose to admit that she requires much more than that — first and foremost protection against looters and bands of marauders, who frequently trespass on her property. Gradually, Tadeusz learns about the reasons for her loneliness — only a few months earlier, the farmyard was a Russian headquarters and the commanding officer treated her, as if she had been his mistress...
| | |
| --- | --- |
| Director: | Wojciech Smarzowski |
| Screenplay: | Michał Szczerbic |
| Music: | Mikołaj Trzaska |
| Cinematography: | Piotr Sobociński jr |
| Editing: | Paweł Laskowski |
| Cast: | Marcin Dorociński, Agata Kulesza, Malwina Buss, Jacek Braciak, Kinga Preis, Edward Lubaszenko |
| Awards: | Orły / Eagle Awards – Najlepszy Film, Najlepsza Główna Rola Kobieca, Najlepszy Scenariusz, Najlepsza Reżyseria, Nagroda Publiczności / Best Film, Best Leading Female Character, Best Screenplay, Best Directing, Audience Award– PAF (2012); Złote Lwy / Golden Lions – Najlepsza Piewszoplanowa Rola Męska , Nagroda Dziennikarzy, Złoty Kangur, Złoty Klakier / Best Leading Male Character, Journalists' Award, Golden Kangaroo, Golden Claque – FPFF Gdynia / Gdynia Film Festival (2011) |
Wojciech Smarzowski was born in 1963. He has graduated from the Faculty of Cinematography at the Film School in Lodz. He also studied film studies at the Jagiellonian University. He is an author of commercials, music videos, TV series and documentary films.
Filmography:
2012 – Róża / Rose
2009 – Dom zły / The Dark House
2004 – Wesele / The Wedding
1998 – Małżowina / Shell Auricle