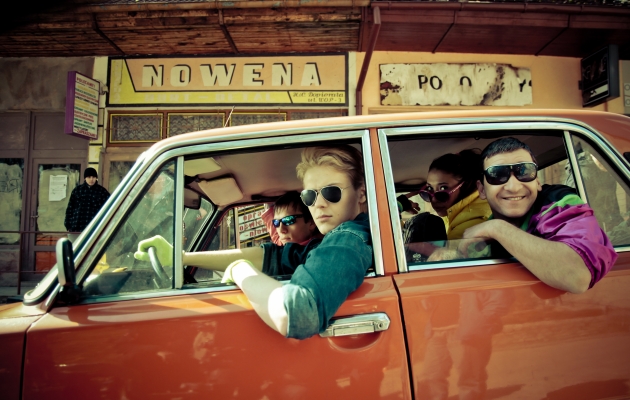 Screenings
10/21, 16:00 · Baj Pomorski – hall A
Trailer
Yuma is a combination of action, comedy, romance and a stellar performance of Jakub Gierszał. The story starts three years after the fall of communism. Zyga is absolutely fed up with experiencing a colourful world only in magazines for the young. Assisted by his friends and a resourceful aunt, he becomes a king of yuma (in Polish "yuma" means stealing) — petty larcenies in West Germany. The illegal practices soon become popular and Zyga's hometown makes an authentic civilizational leap, while the local king of petty thieves is widely recognised and popular with women (two girls are trying to win his heart in the film). However, before long it will not do for Zyga and his angry young companions to have designer clothes and electronic equipment. The police and thieves game soon changes into a highly dangerous conflict, when Zyga and his gang cross the path of Russian gangsters led by the unpredictable Opat (in Eng. "Abbot") and the frequently robbed Germans introduce stricter measures to protect themselves against thieves.
| | |
| --- | --- |
| Director: | Piotr Mularuk |
| Screenplay: | Piotr Mularuk, Wojciech Gajewicz |
| Music: | Jan P. Muchow |
| Cinematography: | Tomasz Dobrowolski |
| Editing: | Agnieszka Glińska |
| Cast: | Jakub Gierszał, Krzysztof Skonieczny, Jakub Kamieński, Tomasz Kot, Katarzyna Figura, Karolina Chapko |
| Awards: | Nominacja do nagroda East of West – MFF w Karlowych Warach / Nominated for the East of West Award – IFF in Karlovy Vary (2012) |
Piotr Mularuk was born in 1966, in Warsaw. He is a director, producer and co-owner of the Yeti Films production company. He studied English literature at the University of Warsaw. He has graduated from film directing at the City University of New York (1993). He has been awarded on numerous occasions for his graduation film titled I will tell you about Esther. Piotr Mularuk directs television programmes, commercial and promotional films and video clips. He has also directed stage performances for Teatr Telewizji (TV Theatre) and made a documentary Pawel Huelle — the Metaphysics of Memory.