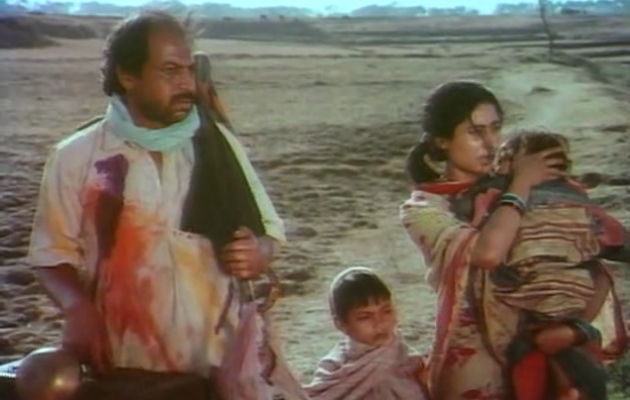 Screenings
10/23, 15:30 · Kino Centrum
This powerful and realistic film is a study of poverty, illiteracy, natural calamities and the toll they take on the human soul. the story of a rural couple — Raghubir (Sadhy Meher) and Sita (Smita Patil) — who're trying to survive on the road with many others like them, after their village was destroyed by a flood. the wife gives birth to a deformed baby, which is pronounced as a "child of the devil by the local pundit (Hindu priest), who forces them to abandon the child and exiles them from the community. the journey takes the couple towards a bizarre and heart-breaking conclusion.
| | |
| --- | --- |
| Director: | Utpalendu Chakrabarty |
| Screenplay: | Utpalendu Chakrabarty |
| Music: | Vanraj Bhatia |
| Cinematography: | Joutish Chakraborty |
| Editing: | Rathindra Nath Bose |
| Cast: | Smita Patil, Sadhu Meher, Om Puri, Rohini Hattangadi |
Utpalendu Chakrabarty he was born in 1948. He is a Bengali Indian filmmaker and theater personality, based in Kolkata, India. He graduated from the Scottish Church College, of the University of Calcutta. Chakrabarty was involved in politics in his student life and spent time in Purulia among the tribals. Although he started out as a teacher, his passion was cinema. He made several documentaries and films include: Prasab, Chandaneer, Phaansi, Debshishu, Chokh, Maina Tadanta.