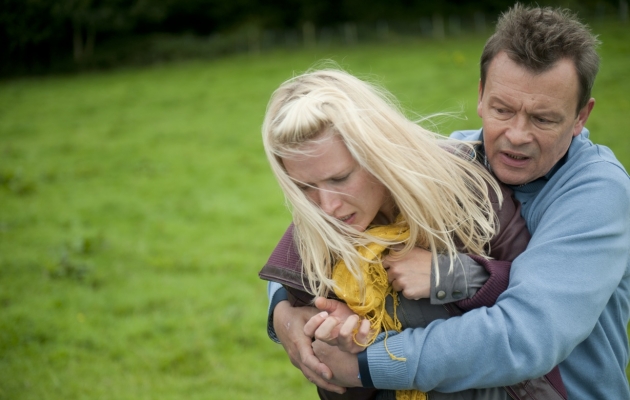 Screenings
10/25, 11:00 · Kino Centrum
Trailer
Jan is a highly-regarded plastic surgeon. He has a wife, daughter and a large house with a garden. However, he gives up his job after many years of practice, turns away from the family and his contact with Nature becomes limited to looking through the window in his room. One day, upon returning from a trip, he discovers and three-day pile of newspapers on the doormat and the body of his wife, in the garden. This tragedy starts an eruption of deeply hidden emotions. It brings back memories and his adult daughter Nadia reappears in his life. Jan travels abroad, under the pretext of a business trip. He does not realise that the feelings he has always escaped from will come flooding back, so far away from home.
| | |
| --- | --- |
| Director: | Norah McGettigan |
| Screenplay: | Norah McGettigan, Gabriel Vargas |
| Music: | Piotr Matula |
| Cinematography: | Marius Matzow Gulbrandsen |
| Editing: | Mariusz Kuś |
| Cast: | Jan Frycz, Anne-Marie Duff, Agnieszka Żulewska, David Fennelly, Niamh Shaw |
| Awards: | Jantar / Jantar Award – Najlepsza Rola Kobieca, Najlepszy Dźwięk / Best Female Character, Best Sound – Festiwal Młodzi i Film w Koszalinie / Young and Cinema Film Festival in Koszalin (2012) |
Norah McGettigan was born in 1976, in the North-West part of Ireland, in the Donegal County. He has gained her BA in theatre studies at the University of Ulster. After university studies, she spent some time travelling through Eastern Europe. Before enrolling for studies at the Directing Department of Film and Television at the Film School in Lodz, she worked as a drama and English teacher. Her short films What's It Like to Be My Mother and A Song for Rebecca have won numerous awards at international film festivals.
Filmography: