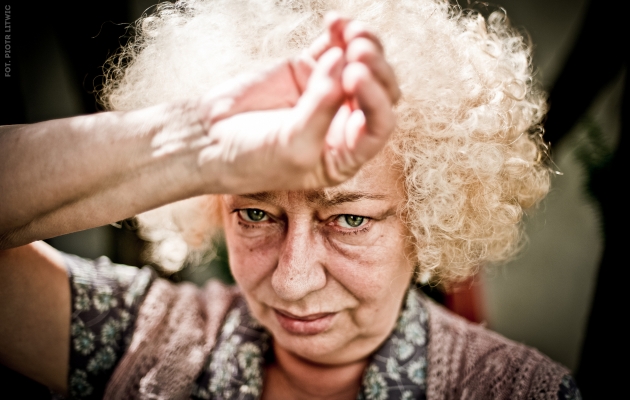 Screenings
10/25, 20:00 · Kino Centrum
Trailer
This film is a psychological thriller, based on a true story. It tells a story of a 35-year-old man named Robert, who seems to be retarded. He has been living all his life at home, with his over-protective mother and two sisters, all of whom treat Robert as a small child. This family seems conventional on the surface and very careful about their good reputation, but this veil hides a true evil. We quickly learn that the apartment is a nest for three degenerate women, murderers and perverts, who have been torturing Robert, both physically and mentally. One day, a beautiful hairdresser, Marianna, pays a visit to the family. Her youth, innocence and uniqueness inspire Robert to break free from the nightmare he has been living in. Three Sisters T is Maciej Kowalski's debut feature film. The screenplay for the film has been based on his own theatrical play, titled Trzy siostrzyczki Trupki (Three Trupek Sisters — trupek means "corpse, dead body" in English).
| | |
| --- | --- |
| Director: | Maciej Kowalewski |
| Screenplay: | Maciej Kowalewski |
| Music: | Marek Dziedzic |
| Cinematography: | Hubert Komerski |
| Editing: | Hubert Komerski |
| Cast: | Rafał Mohr, Bogusława Schubert-Massoc, Małgorzata Rożniatowska, Ewa Szykulska, Natalia Szyguła, Izabela Kuna |
Maciej Kowalewski was born in 1969, in Koło. He has graduated the Ludwik Solski State Drama School in Cracow. He is an actor, TV and theatre director, playwright and screenwriter. In the years 1993–1995, he performed for Teatr Współczesny (Modern Theatre) in Wroclaw, and in the years 1996–2000 for Teatr Nowy in Warsaw. In the years 2007–2010, he was the general and artistic manager in Na Woli Theatre, founded by actor Tadeusz Łomnicki. He is the author of such dramas as: Citizen M, The Waiting Room, Bajka o sercu ze strychu (A Fairytale about a Heart from the Attic), Miss HIV, Bombs, Okolice bikini (The Bikini Region) and Sperm Race.