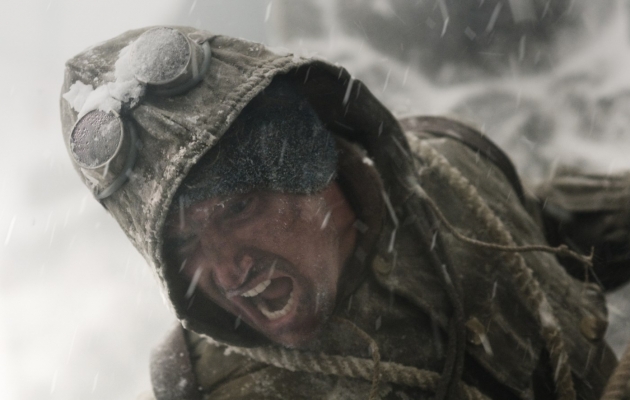 Screenings
10/22, 22:30 · Baj Pomorski – hall A
Trailer
Austria, 1930s. Two German daredevils decide to climb the Eiger — a mountain in the Alps that has never been conquered before. The north face of the mountain is ominously referred to as the Death Wall, because of the number of lives it had already claimed. The two German climbers are followed by a pair of Austrian mountaineers. Soon, the ascent turns into a dramatic struggle for survival... Nordwand (North Face) is often called Mordwand (Death Wall), as it has killed many daring climbers, who tried to make it to the top. The two bold climbers are Toni Kurz and Andreas Hinterstoisser — two Bavarian soldiers, who have become bored with their military service and want to take the path that has always seemed inaccessible. Their competition in this attempt is a pair of Austrian mountaineers. The two German daredevils are followed by Henry Arau, an experienced journalist, who arrives at the Eiger to write a propaganda article about the two Bavarians' coup. This extreme climb is observed by journalists and prominent representatives of authorities, who are sitting on a hotel deck and watching it through their telescopes.
| | |
| --- | --- |
| Director: | Philipp Stölzl |
| Screenplay: | Christoph Silber, Rupert Henning, Johannes Naber, Phillip Stölzl |
| Music: | Christian Kolonovits |
| Cinematography: | Kolja Brandt |
| Editing: | Sven Buddelmann |
| Cast: | Benno Fürmann, Florian Lukas, Johanna Wokalek, Ulrich Tukur, Georg Friedrich |
| Awards: | Najlepsze zdjęcia, Najlepszy dźwięk / Best Cinematography, Best Sound – German Film Award (2009) |
Philipp Stölzl was born in 1967, in Munich. His feature debut was the social drama Baby (2002). He perfected his professional technique, by making video clips for pop and rock stars. His portfolio includes word for such prominent names, as Madonna, Garbage and Rammstein. Philipp Stölzl directed Young Goethe in Love and the recent thriller The Expatriate.
Filmography:
2012 – The Expatriate
2010 – Zakochany Goethe / Young Goethe in Love
2008 – Północna ściana / North Face
2002 – Baby