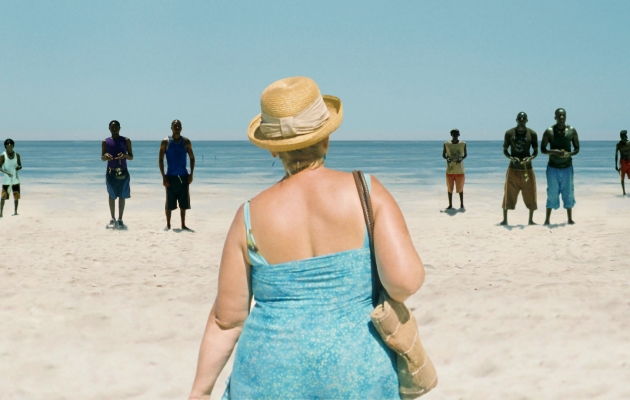 Screenings
10/21, 22:30 · Kino Centrum
Trailer
The title "paradise" is the area of coastal health resorts in Kenya, where middle-aged European women travel to look for the so-called "beach boys", i.e. young African men, who satisfy their sexual fantasies, in return for money. This seems to be the perfect place for Teresa, a mother of a teenage daughter, to have a grand celebration of her 50th birthday. She has her daughter in a friend's keeping and goes to a Kenyan health resort with the hope to find love and experience a sexual thrill of her life. The reality turns out to be far from the paradise ideal, though. Wandering from beach to beach in a desperate hope to find the true love and changing her dark-skinned lovers, one by one, Teresa faces the ever-growing disappointment. Consequently, she loses her sensitivity and becomes gradually disillusioned, which brings her to a bitter conclusion — the love on Kenyan beaches is not a dreamed paradise, but a paid transaction, which is just prostitution in disguise. Paradise: Love is the first part of a film trilogy, under the common title Paradise.
| | |
| --- | --- |
| Director: | Ulrich Seidl |
| Screenplay: | Ulrich Seidl, Veronika Franz |
| Music: | Gerrit Wunder |
| Cinematography: | Wolfgang Thaler, Ed Lachman |
| Editing: | Christof Schertenleib |
| Cast: | Margarete Tiesel, Peter Kazungu, Inge Maux, Dunja Sowinetz, Helen Brugat, Gabriel Mwarua, Carlos Mkutano |
| Awards: | FIPRESCI – MFF w Cannes / IFF in Cannes (2012) |
Ulrich Seidl was born in 1952, in Vienna. He is a director, screenwriter and producer. He is considered to be one of the most controversial Austrian directors, a scandalmonger, who likes breaking social taboo and use his movies to go beyond the established social conventions and boundaries. His work is a combination of fiction and documentary films. He was 26, when he started studying at the Filmacademy Vienna and had his first contact with the world of cinematography. His films have made him famous and recognised all around the world. He has won numerous film awards.
Filmography:
2012 – Raj: Miłość / Paradise: Love
2007 – Import / Export
2001 – Upały / Dog Days
1995 – Zwierzęca miłość / Animal Love
1992 – Trzeba się liczyć ze stratami / Losses to be expected