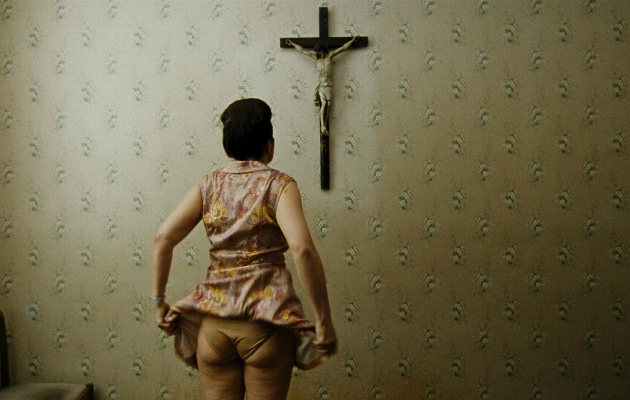 Screenings
10/24, 22:30 · Baj Pomorski – hall A
Trailer
For Anna Maria, an X-ray technician, paradise lies with Jesus. She devotes her vacation to missionary work, so that Austria may be brought back to the path of virtue. On her daily pilgrimage through Vienna, she goes from door to door, carrying a foot-high statue of the Virgin Mary. One day, after years of absence, her husband, an Egyptian Muslim confi ned to a wheelchair, comes home. Hymns and prayers are now joined by fi ghting. Paradies: Faith recounts the stations of the cross of a marriage and the longing for love. Paradies: Faith is the second film in Ulrich Seidl's Paradies-Trilogy about virtues (love, faith. hope).
| | |
| --- | --- |
| Director: | Ulrich Seidl |
| Screenplay: | Ulrich Seidl, Veronika Franz |
| Cinematography: | Wolfgang Thaler, Ed Lachman |
| Editing: | Christof Schertenleib |
| Cast: | Maria Hofstätter, Nabil Saleh, Natalya Baranova, Rene Rupnik |
| Awards: | Nagroda Specjalna Jury, Nagroda CinemAvvenire / Special Jury Prize, CinemAvvenire Award – MFF w Wenecji / Venice IFF (2012) |
Ulrich Seidl was born in 1952, in Vienna. He is a director, screenwriter and producer. He is considered to be one of the most controversial Austrian directors, a scandalmonger, who likes breaking social taboo and use his movies to go beyond the established social conventions and boundaries. His work is a combination of fiction and documentary films. He was 26, when he started studying at the Filmacademy Vienna and had his first contact with the world of cinematography. His films have made him famous and recognised all around the world. He has won numerous film awards.
Filmography:
2012 – Raj: Miłość / Paradise: Love
2007 – Import / Export
2001 – Upały / Dog Days
1995 – Zwierzęca miłość / Animal Love
1992 – Trzeba się liczyć ze stratami / Losses to be expected