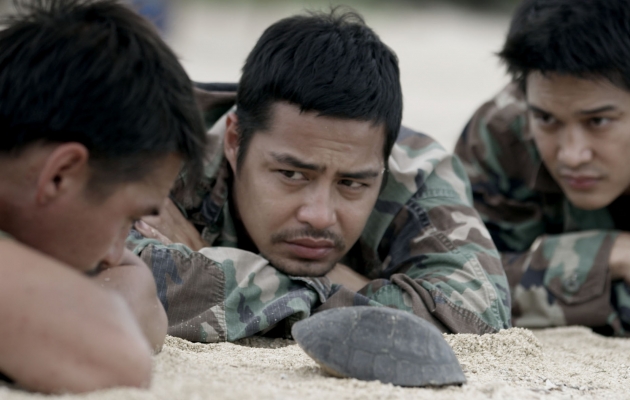 Screenings
10/23, 13:00 · Baj Pomorski – hall A
Trailer
Julian, a Filipino soldier stationed in Kota Island, is ready to leave Kalayaan. He already completed his three months of service. News of a pending coup d'etat in Manila orders him to stay in the island until further notice. With nothing much to do, he spends his waiting hours walking by the beachfront, cleaning his rifle, watching porn, listening to songs on his old radio to overcome boredom and loneliness. He also has to contend with "someone" seemingly watching him. Not until his officer from the main island sends the loud mouth Lucio and the newbie Eric to station with him on the island. Their moments together — chatting, drinking, playing basketball and exchanging stories about a ghost soldier opens up things that Julian tries to forget. He is now confronted with a growing loneliness and remembers a traumatic experience in his past, which he doesn't want to talk about.
| | |
| --- | --- |
| Director: | Adolfo Borinaga Alix Jr. |
| Screenplay: | Adolfo Borinaga Alix Jr. |
| Music: | Teresa Barrozo |
| Cinematography: | Albert Banzon |
| Editing: | Aleks Castañeda |
| Cast: | Ananda Everingham, Angeli Bayani, Kiki Sugino, Luis Alandy, Rocky Salumbides, Zanjoe Marudo |
| Awards: | Najlepszy Dźwięk, Najlepsze Zdjęcia, Najlepsza Scenografia / Best Sound, Best Cinematography, Best Production Design – Prezentacja Reżyserów / Directors Showcase – Cinemalaya (2012) |
Adolfo Borinaga Alix Jr. was born in 1978 in Makati City, Philippines. He graduated magna cum laude at the Pamantasan ng Lungsod ng Maynila (University of the City of Manila) with a degree in Mass Communications. He started as a scriptwriter for films and television. His first film, Donsol was a finalist in the 2006 Cinemalaya IFF and was the Philippines' official submission to the Academy Awards Best Foreign Language Film category. Since his debut as a director, he has become one of the promising young Filipino filmmakers with his other films screened at various international film festivals.