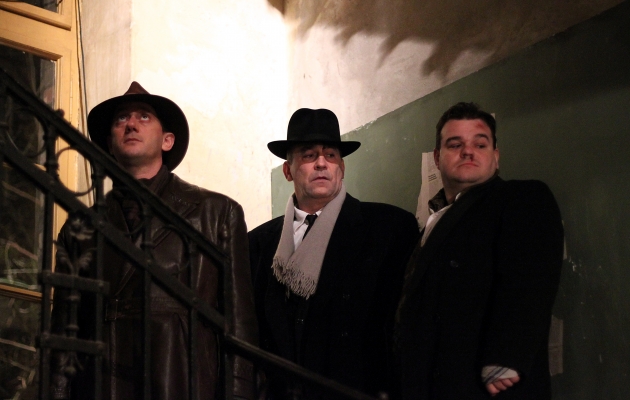 Screenings
10/21, 18:30 · Baj Pomorski – hall B
Trailer
It is December 1975. The Ministry of Public Security decides to verify the loyalty of their agents, following the chaotic events that took place in October 1975. Jung — a teacher in real life — is forced to undergo tests and prove his loyalty to Marco, his own boss and friend. Things turn upside down, when the young agent is visited by Eva, one of the participants of the freedom movement in 1956. It is obvious that the two are in love, but this casts a shadow of doubt on Jung's loyalty to the party. What can be the possible result of tests performed in an environment, where trust does not exist?
| | |
| --- | --- |
| Director: | Péter Bergendy |
| Screenplay: | Norbert Köbli |
| Music: | Gergely Parádi |
| Cinematography: | Zsolt Tóth |
| Editing: | István Király |
| Cast: | János Kulka, Zsolt Nagy, Gabriella Hámori, Péter Scherer |
| Awards: | Oficjalna selekcja w MFF w Karlovych Varach / The Official Selection at the IFF in Karlovy Vary (2012) |
Péter Bergendy was born in 1964. He is a Hungarian director, producer and editor. His grandfather gave him the first camera, when Péter was only 6 years old. Since then, the world of cinema has always been his fascination. Later on, he studied psychology at the University in Budapest, then at the Institute of Film, and also worked in television, edited the "Cinema" magazine, made video clips and commercials. He made his first feature debut in 2004. It was a romantic comedy Állítsátok meg Terézanyut! The Exam is Bergendy's second film.
Filmografia / Filmography:
2011 – Egzamin / The Exam
2004 – Állítsátok meg Terézanyut!