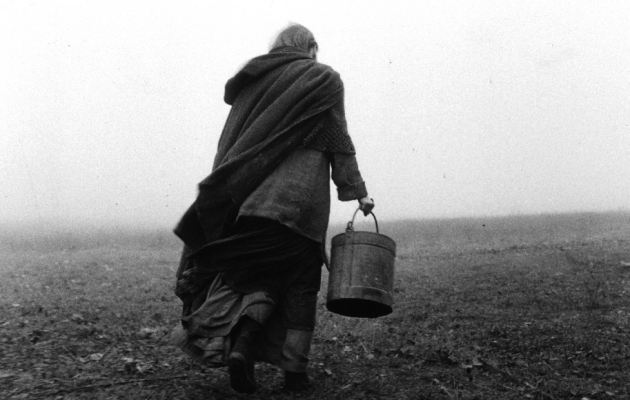 Screenings
10/26, 13:00 · Kino Centrum
Trailer
On 3rd January 1889, upon leaving a hotel in Turin, German philosopher Friedrich Nietzsche saw a horse being whipped by a coachman. Nietzsche tried to save the animal, but to no avail. More than that, he was also injured in the process. Soon, the philosopher was diagnosed with a chronic mental illness. Until the day of his death, Friedrich Nietzsche did not write a single page of text. The film itself focuses on the story of the coachman, his daughter and the title horse. The Turin Horse is an austere, harsh and enigmatic film.
| | |
| --- | --- |
| Director: | Béla Tarr |
| Screenplay: | László Krasznahorkai, Béla Tarr |
| Music: | Mihály Vig |
| Cinematography: | Fred Kelemen |
| Editing: | Ágnes Hranitzky |
| Cast: | Erika Bók, János Derzsi, Mihály Kormos, Volker Spengler |
| Awards: | Nagroda Grand Prix Jury – Srebrny Niedźwiedź, FIPRESCI / The Grand Prix Jury Award – Silver Bear and FIPRESCI awards (Berlinale, 2011) |
Béla Tarr was born in 1955 in Pécsu. He is an avant-garde Hungarian screenwriter and director. In 1981, he graduated from the Faculty of Directing at the Budapest Film Academy. He was part of the Béli Balazs Studio that invites amateur filmmakers. In the years 1989–1990, he was granted a DAAD scholarship in Berlin. He has been an assistant professor at the Film Academy in Berlin, since 1990. He has also been a member of the European Film Academy (EFA), since 1997. Initially, his films focused on the social issues Hungary was battling in 1980s and he portrayed people from the underclass. Béla Tarr has gradually switched from social issues to metaphysical themes, problems of human nature, solitude and the deformation of psyche and disabilities.
Filmography (selected):
2011 – Koń turyński / The Turin Horse
2007 – Człowiek z Londynu / The Man from London
2000 – Harmonie Werckmeistera / Werckmeister Harmonies
1994 – Szatańskie tango / Satan's Tango
1988 – Potępienie / Damnation
1984 – Jesienny almanach / Autumn Almanac
1982 – Ludzie z prefabrykatów / The Prefab People
1978 – Hotel Magnezit