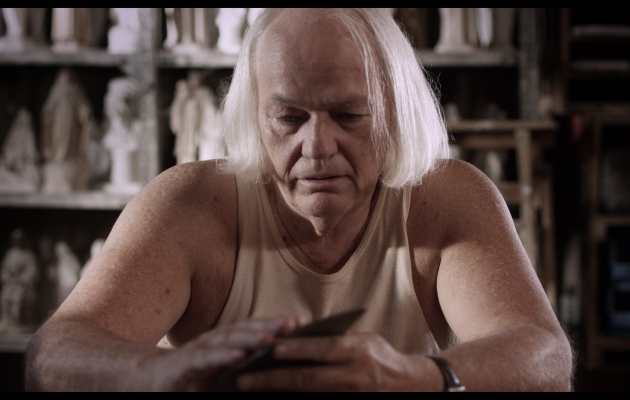 Screenings
10/22, 18:30 · Kino Centrum
Trailer
Étienne is a sick old man living alone in a cramped apartment full of stuff. He won't get rid of it all and he would never think of moving out, even though the flat doesn't belong to him. He refuses to talk to the social worker, his neighbours or to the owner of the flat believing that the souls of his dead wife and daughter are still present within its walls. The symptoms betrayed by the main character in the film, whose title is inspired by the frequent depiction of the myth of St Stephen's martyrdom, are in no way unusual in the modern world. The themes of old age and loneliness are not conceived within a traditional psychological narrative, where the film develops a story for the central character with varying degrees of intensity. We discover very little about Étienne's past and can only surmise the reasons for his strange behaviour from the indications he gives us.
| | |
| --- | --- |
| Director: | Pere Vilà i Barceló |
| Screenplay: | Pere Vilà i Barceló, Laura Merino |
| Music: | Jordi Casadevall |
| Cinematography: | Jose Luis Bernal |
| Editing: | David Perez |
| Cast: | Lou Castel, Marie Payen, Luis Rego |
| Awards: | Oficjalna selekcja / Official selection – MFF w Karlowych Warach / Karlovy Vary IFF (2012) |
Pere Vilà i Barceló was born in 1975 in Girona (Spain). He studied screenwriting at Centre Calassanç in Barcelona as the pupil of famous director and screenwriter Joaquin Jordà. He has written a number of screenplays and has made various short films. He won the Elsa Peretti Foundation prize for his film The Fish of the River Lethe. In 2006 he shot his first feature film, Railroad Crossing, presented at several festivals, including Rotterdam. He then made the short documentary Origin while also shooting the civil war documentary Unknown Soldiers (2008), which he co-directed with Isaki Lacuesta.
Filmography:
2012 – La lapidation de Saint Étienne / The stoning of Saint Stephen
2006 –  Railroad Crossing