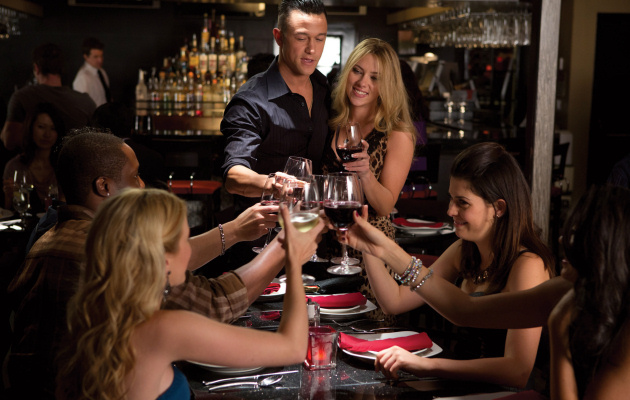 Don Jon, directed by Joseph Gordon-Levitt, USA, OPENING FILM – American independent cinema at Tofifest. Don Jon is a feisty comedy, in which he – a handsome sex addict – meets her – a sexy blonde and incurable romantic. The film is an original love story, in which the two favourite pop-culture genres – porn and melodrama – flirt with each other…
There are only a couple things that matter for Jon Martello: gym, car, God, family, buddies, and porn films. His buddies call him Don Jon, as there is no woman, who could resist him. Barbara is young, sexy, and she has "a class". She is in love with love stories made in Hollywood and dreams about Prince Charming, with whom she would ride towards the setting sun. Both of them love film, particularly those that end happily… Even though each of them prefers a different genre…
In Bloom, directed by Nana Ekvtimishvili and Simon Gross; Germany, France, Georgia, section: ON AIR COMPETITION – One of the most interesting films in the On Air Main Competition. It is a touching and beautiful story about two young girls from Georgia and the end of their innocence, which clashes with the harsh male-dominated reality of life in Georgia, at the beginning of 1990s.
In early 1990s, Tbilisi is transformed into the capital of the newly independent Georgia, formed after the collapse of the Soviet Union. The new country immediately faces social problems: violence, war on the Black Sea coast (for the disputed territory of Abkhazia), and vigilante justice. But for Eka and Natia, fourteen years old inseparable friends, life has only just unfolded. It takes place in the street, at school, with friends or the elder sister. Eka is growing up without her father, rebelling against her concerned mother and her older sister. Natia's father, on the other hand, is a choleric alcoholic, who terrorises the entire family. Although both girls have already been dealing with male dominance, early marriage and disillusioned love, for these two girls in bloom life just goes on.
Salvo, directed by Fabio Grassadonia and Vincenzo Piazza,Italy and France, section: ON AIR COMPETITION. The film won Grand Prix of the Cannes Film Festival's Critics' Week – it is an Italian story about guilt and redemption, in which the life of a contract killer for the Sicilian Mafia is changed by a blind girl.
Salvo is hitman for the Sicilian Mafia, and a solitary, cold, and ruthless person. When he sneaks into a house on an assignment, he discovers Rita, an innocent young blind girl who must stand by powerlessly while her brother is assassinated. What follows is an intense exchange fuelled by adrenaline and fear between the killer and his witness, one that changes their two lives in an instant. The darkness is lifted from Rita's eyes just as Salvo decides, against his murderous instincts, to spare her life. From then on, both haunted by their brief encounter, these two damaged souls will attempt to navigate their dangerous next steps side by side.
Life Feels Good, directed by Maciej Pieprzyca, Poland, section: FROM POLAND COMPETITION – Shocking and loved by the audience, this film won Grand Prix at the film festivals in Toronto and Gdynia. The film is compared to My Left Foot by Jim Sheridan and features a brilliant performance by Dawid Ogrodnik.
When Mateusz was born, doctors immediately gave up on him and considered him "cabbage". His parents never accepted this verdict, though, and believed that their son was fully capable, in terms of his intellect, despite problems with communication. Mateusz is growing up, surrounded by care and love, and he makes a faithful friend, Anka, who lives nearby. Unfortunately, a twist of fate forces him to part with his family, and he ends up in a specialist health centre. Away from his loved ones, he decides to start a tough struggle for dignity and the right to live a normal life. His situation takes a turn, when a young female volunteer is sent to the centre, and Mateusz becomes the centre of attention for a young doctor, who is working on experimental methods of treatment. The story was based on actual events, and it is a warm and touching film, full of optimism and humour.
Child's Pose, directed byPeter Colin Netzer, Romania, section: NEW ROMANIAN CINEMA – The film won the prestigious Golden Bear at Berlinale 2013 for the Best Film and the FIPRESCI Award. This film is a proof of the monstrous strength of the Romanian New Wave.
Cornelia has just turned 60. She is a wealthy and respected lady, who has been successful with her career. She has a devoted husband and influential friends, among the Bucharest elites. However, this life is not to her liking… Barbu, her 34-year-old son, whom she loves most in the world, is doing everything in his power to become independent of his mother, and avoids her like the plague. He's moved out of the house, has his own car and a girlfriend, who does not satisfy his mother's "standards". Upon learning that her son was involved in a tragic accident, Cornelia starts to fight for her son… She will use all of her influences, well connected friends, and money to protect Barbu against jail. She dreams that her son will return home and be "her little boy" again…
Black Stone, directed by Nidal Al-Dibs, Syria, section: FOCUS: SYRIA – This film had been made by the most significant Syrian director, a couple of years before the war broke out in Syria, and it is an analysis of the situation in the country, at the time.
Black Stone is a touching portrait of a district on the fringe of Damascus. In a poor neighbourhood south of Damascus, called Al-Hajar Al-Aswad (Black Stone), four working children collect pieces of metal to sell. All of them support their families and steal daily moments of joy while working, or on their day off, wandering around Damascus – a city they love. The thing is that their dreams are bigger than their neighbourhood or even their town.
Everything I Like, directed by Martin Šulík, Slovakia, section: A RETROSPECTIVE OF MARTIN ŠULÍK – This is one of the most important films of the guest to a special retrospective at Tofifest. This film was nominated for Academy Awards and won awards at the Strasbourg IFF.
This film by Martin Šulík is set in Prague and tells a funny story of a 38-year-old Tomas. He is in an emotional dilemma, torn between the need for change and shake off apathy, and all the other things that he has liked in his current life, regardless. Tomas is unemployed, fights with his wife, and faces many problems with his teenage son. For al the afore-mentioned reasons, he accepts a proposition from a young lady Angelika, to leave all that behind and experience "the real life".
Paradise: Faith/Hope/Love, directed by Ulrich Seidl; Austria, France, Germany, section: THE WORLDS OF ULRICH SEIDL – It is a shocking trilogy filmed by Ulrich Seidl, one of the guests to Tofifest.
Paradise: The title "paradise" is the area of coastal health resorts in Kenya, where middle-aged European women travel to look for the so-called "beach boys", i.e. young African men, who satisfy their sexual fantasies, in return for money. This seems to be the perfect place for Teresa, a mother of a teenage daughter, to have a grand celebration of her 50th birthday. She has her daughter in a friend's keeping and goes to a Kenyan health resort with the hope to find love and experience a sexual thrill of her life. The reality turns out to be far from the paradise ideal, though. Wandering from beach to beach in a desperate hope to find the true love and changing her dark-skinned lovers, one by one, Teresa faces the ever-growing disappointment. Consequently, she loses her sensitivity and becomes gradually disillusioned, which brings her to a bitter conclusion – the love on Kenyan beaches is not a dreamed paradise, but a paid transaction, which is just prostitution in disguise.

Faith: Anna Maria is a medical X-ray technician, who sees paradise wherever she can find Jesus. The woman spends every free minute of her time on missionary activities, as she intends to bring Austria back on the path of faith. Everyday, she goes on a pilgrimage through the streets of Vienna and walks from door to door, holding a figure of the Virgin Mary in her hands. One day, her Muslim husband returns, after many years of absence. He is a Muslim of Egyptian origin, who now lives in a wheelchair. The husband and wife start arguing, while prayers and religious chants are set aside. In Paradise: Faith, Ulrich Seidl presents successive stations of Via Dolorosa, i.e. marriage and unfulfilled longing for a true love.

Faith: The third part of the Paradise trilogy by Ulrich Seidl tells a story about a 13-year-old Melanie. When her mother Teresa departs for Kenya, Melanie goes on holiday to the Austrian countryside. She is to take part in a weight loss summer camp for obese teenagers. On a regular day, teenagers try to practice sports under the supervision of a tattooed coach and a repulsive doctor, while at night they spend time on drinking alcohol. In between physical education classes and dietary counselling, pillow fights, and the first cigarette in her life, Melanie falls for their supervising doctor, who is 30 years older. The first throes of passion demonstrated by Melanie are based on childlike fascinations, and the much older doctor initially succumbs to her advances. As time passes, he suddenly realises that Melanie is taking a crash course in discovering her innate female power of seduction, and she will not hesitate to do everything in her power to win his favours.
Gravity, directed by Alfonso Cuaron; USA, Great Britain, section: FORUM 12/13 – It is a breath-taking 3D show, directed by Alfonso Cuaron, which won the title of "cinema's future", during the Venice IFF.
Dr. Ryan Stone is a brilliant medical engineer on her first shuttle mission, with veteran astronaut Matt Kowalsky in command of his last flight, before retiring. But on a seemingly routine spacewalk, disaster strikes. The shuttle is destroyed, leaving Stone and Kowalsky completely alone — tethered to nothing but each other and spiralling out into the black Cosmos. The deafening silence tells them they have lost any link to Earth… and any chance for rescue. As fear turns to panic, every gulp of air eats away at what little oxygen is left.
The Mermaid, directed by Anna Melikyan, Russia, section: WOMAN IN RUSSIAN CINEMA – It is a beautiful story of a certain girl, who was captivated by her own dreams. The film won the FIPRESCI Award at Berlinale and the Independent Camera Award at the Karlovy Vary IFF.
Her name was Alisa and she used to live by the sea. She was living a completely ordinary life. She dreamt about ballet, sang in a children's choir, and went to a special school. She stopped talking, when she was 6. When she was 17, she moved to Moscow, and she was 18, she met him… and disappeared. It happens all the time in big cities. Rusalka is a visually interesting storing about the growing up of a girl, who has believed that she has the power to make wishes come true, ever since her childhood. This colourful kaleidoscope of images and emotions from the life of the main heroine is dominated by the extraordinary performance of the main actress, Mariya Shalayeva.
In the Name Of…, directed by Malgorzata Szumowska, Poland, section: FROM POLAND COMPETITION – This film is very powerful visually, as it discusses the controversial subject of homosexuality among clerics. It is a story about complicated emotions, repressions, solitude, and the possibilities than can be found later… The film has already won many important awards, including: Berlinale – Teddy Award, Siegessäule Readers' Award; Gdynia Film Festival – Silver Lions, Best Leading Male Character and Best Director.
Father Adam assumes a new parish in the countryside and establishes a centre for socially maladjusted youth. He soon becomes very popular with local people, thanks to his vitality, charisma, and openness. However, making friends with a local outsider forces the priest to face his own problems, from which he once run away into priesthood. When confronted with "forbidden" desires, the protagonist will have a taste of both happiness and despair.
Rocker, directed by Marian Criṣan; France, Germany, Romania, section: NEW ROMANIAN CINEMA – This is the latest film by Marian Crisan, a special guest to Tofifest, and a winner of Palme d'Or in Cannes. This film tells a story about the relationship between a father and a son, and about parents, who would sacrifice all for their children.
Victor is a rock musician, nearly 40, who is ready to do everything in his power to help his drug-addicted son. In order to support his son, he is preparing a concert in a big city, together with his anonymous rock band. In the meantime, Victor is working to rebuild his family life. The only obstacle is his chaotic private life, which soon overcomes him… It is quite possible that rock music is the only thing he has left in his life…
Enter the Dragon, directed by Robert Clouse, USA, section: PHENOMENA: BRUCE LEE. a legendary film. It is a landmark for the genre of martial arts films, which introduced this phenomenon from Asia to international cinema. This was the role of a lifetime for Bruce Lee – unfortunately, his last as well.
Enter the Dragon is the last and the most famous film with Bruce Lee, which gave the master of martial arts immortality, and started the fashion for martial arts films all around the world, which has continued up to this day. Until 1973, such films were virtually unknown beyond Hong Kong. One can say with confidence that the film has stood the test of time and it excited in the same way, as it used to do back in 1970s. The fights in the film are breath-taking and spectacular, as Bruce Lee himself took care of the choreography. It is worth taking note of the fact that all fight scenes were shot without any special effects, and what we see on the screen are the actual skills of martial arts champions – and what champions they are! Bruce Lee's partners in the film include Bolo Yeung, Jim Kelly, and Sammo Hung Kam-Bo, while more experienced viewers will see Jackie Chan and Chuck Norris, playing small roles.
An Episode in the Life of an Iron Picker, directed by Danis Tanović; France, Italy, Slovenia, Bosnia and Herzegovina, section: FORUM 12/13 – The awards the film won speak for themselves: Silver Bear (Jury Grand Prix), best Actor, Jury Prize at Berlinale. The person that portrays the main protagonist is a non-professional actor, and Romani. Before he played in the film, he would not be accepted at a restaurant in his hometown. When he received the Best Actor Award at Berlinale, he was… invited to run for councillor in his hometown. This is how a film can change our lives.
Nazif wants to help his family by collecting scrap. He has difficulty making ends meet. Senada, his partner, takes care of the house and their two little daughters. The third one is soon to be born. After a busy day, Nazif returns home and finds his girlfriend ill, in bed. Next day, he borrows a car and takes her to hospital. It soon turns out that the baby she was carrying is dead. The hospital demands payments, and Nazif will do everything in his power to save the woman's life…
Adele: Chapters 1 & 2, directed byAbdellatif Kechiche, France, section: FORUM 12/13 – This is yet another award-winning film at Tofifest. The film won Palme d'Or and FIPRESCI Award at this year's edition of the Cannes IFF.
The story starts when the title heroine is 15 years old and still in high school. She experiences her first infatuation, first sexual intercourse, and disappointment. She is certain about one thing, though: girls date boys. However, her life changes for ever, when she meets Emma, a young woman with blue hair. She will be the one to make Adela discover her desires and a woman in herself. We observe Adela, as she is maturing and looking for her own path in life. She finds it, then loses it, and finds again…